The Possibility of Nationalization by the Kurdistan Regional Government of Iraq under the Light of Signed Petroleum Contracts and Establishment of Kurdistan National Oil Company (KNOC)
Analytical study
Abstract
In the past 20 years, Kurdistan Regional Government (KRG) of Iraq has signed hundreds of Production Sharing Contracts with many international oil companies to expand investment and develop its oil sector. According to the applicable laws in the region, in particular Oil and Gas Law No.22 of 2007, government shall work to establish Kurdistan National Oil Company (KNOC) to take charge of petroleum operations. Meanwhile, according to the same law, the duration of petroleum production sharing contracts shall not exceed 20 years with the possibility of five years extension. Despite the fact that KRG is abided to many legal obligations to share the produced oil under production sharing contracts, there is always a question of whether KRG will be able to administer its oil industry and what will be the future of these oil contracts? This paper argues that KRG cannot nationalize (by appropriating the whole oil industry and assets of foreign oil companies) its petroleum sector even after the establishment of KNOC as there are many legal terms preventing it from nationalizing the oil industry besides the lack of technical ability to run the sector without the direct support from foreign oil companies. Moreover, the paper also discusses different possibilities after the end of oil contracts with foreign international companies; Does KRG continue with the current contractual form or it will shift to other forms of contract such as service contract to develop oil industry in the region? It suggests that the best practice for the government is to institutionalize its oil sector with receiving direct support from oil companies. The establishment of KNOC is considered to be an effective step towards institutionalization of oil sector in the Iraqi Kurdistan Region.
References
Primary Sources
First: Legislations
• Iraqi Civil Code No. 40 of 1951.
• Law No.80 of 1961.
• Law of Nationalization of Operations of the Iraq Petroleum Company Limited, No. (69) of 1972.
• Iraqi Constitution 2005.
• KRG's Investment Law No.4 of 2006
• Iraqi Investment Law No.13 of 2006.
• KRG's Oil and Gas Law No.22 of 2007.
• Instructions for Implementing Government Contracts No.2 of 2014.
• Public Procurement Regulation No.2 of 2016.
• Iraq National Oil Company Law no. 4 of 2018.

Second: Conventions and resolutions
UN General Assembly Resolution, Permanent Sovereignty over Natural Resources, 1803 (XVII) of 14 December 1962.
International Covenant on Economic, Social and Cultural Rights

Third: Cases
Nationalization case is American Int'l Group, Inc. v. Islamic Republic of Iran, 493 F. Supp. 522 (D.D.C. 1980
Anglo-Iranian Oil Co. case, I.e.l. Pleadings, op. cit., para. 30.

Secondary Sources

First: Book
Junji Nakagawa, 2018, Nationalization, Natural Resources and International Investment Law, (Routledge).
Valerie Marcel, 2006, Oil Titans: National Oil Companies in the Middle East (Brookings Institution Press).

Second: Journal Articles
Abbas Ghandi and C.Y. Cynthia Lin, 2014 'Oil and Gas Service Contracts around the World: A Review'.
Atef Suleiman, 1998 'Oil Experience of the United Arab Emirates and Its Legal Framework', 6 J. Energy & Nat. Resources L. No.1.
Bullington, Problems of International Law in the Mexican Constitution 2I Am. J. Int. L.
Christopher M. Blanchard, 2009, Iraq: Oil and Gas Legislation, Revenue Sharing, and U.S. Policy (Congressional Research Service 7-5700.
Daniel Silverfarb, 1996, 'The Revision of Iraq's Oil Concession 1949-52, Middle Eastern Studies, Vol.32, No.1.
Edward L.Moris, 1999 'A New Political Economy of Oil?', Journal Of International Affairs, Vol 53, No.1.
Greg Muttitt, 2005 'Crude Designs: The Rio-off of Iraq's Oil Wealth', Global Policy Forum.
H. M. Kindred, "Foreign Governments before the Courts" (1980) 63 624-627.
Hyde, Compensation for Expropriation, 33 Am. J. Int. L.
Junji Nakagawa, 2018, Nationalization, Natural Resources and International Investment Law, Routledge.
Kunz, 1940, The Mexican Expropriations, 17 N.Y.U.L. REv. 327, 344.
Lianlian Lin & John R. Allison, 1994, 'An Analysis of Expropriation and Nationalization Risk in China', Yale Journal of International Law, Vol 19.
M. Sornarajah, 1979, "Compensation Expropriation - The New Norms" 13, J.W.T.L.
M. Sornarajah, 1982, 'Problems in Applying Restrictive Theory of Sovereign Immunity', The International and Comparative Law Quarterly, Vol 31, No.4.
Nutavoot Pongsiri, 2004 'Partnerships in Oil and Gas Production-Sharing Contracts' 17(5) International Journal of Public Sector Management 431.
Seymour J.Rubin, 'Nationalization and Compensation: A Comparative Approach', 1950, The University of Chicago Law Review, Vol. 17, No. 3.
Silvana Tordo and others, 2011, 'National Oil Companies and Value Creation', World Bank Working Paper No.218.

Websites
Mohammed Norri, 2017, 'Foreigners Right to Own Real Estate in Iraq', available at [https://www.tamimi.com/law-update-articles/foreigners-right-to-own-real-estate-in-iraq/] accessed on 16 February 2020.
KRG's Ministry of Natural Resource [http://mnr.krg.org/index.php/en/downstream/data] accessed on 12 Feb 2020.
Damian McNair, 2011, 'Force Majeure Clauses' , available at [file:///C:/Users/Dell/Downloads/forcemajeureclauses%20(2).pdf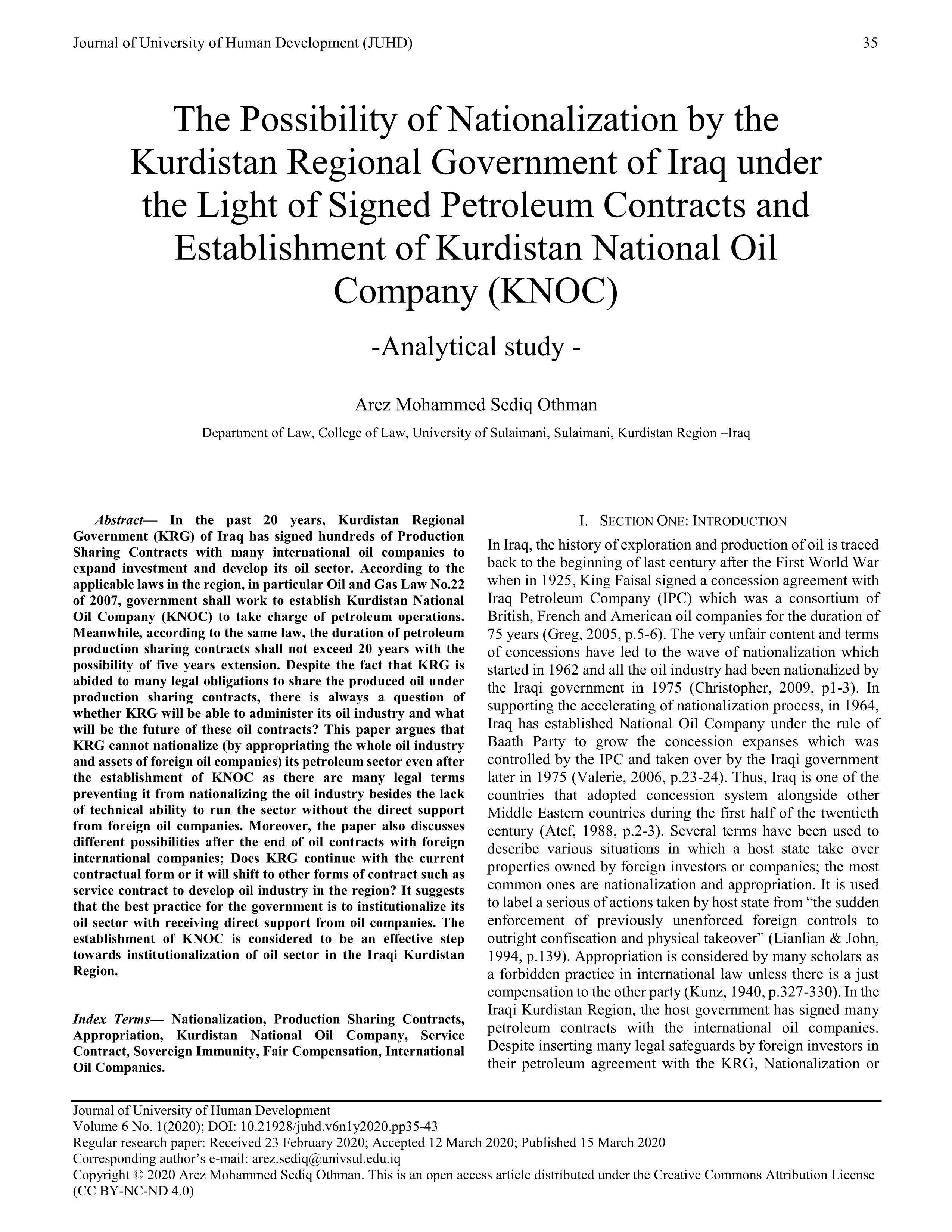 This work is licensed under a Creative Commons Attribution-NonCommercial-NoDerivatives 4.0 International License.