Rhyme in the poems of( Muhamed Omer Osman)
Keywords:
poetry, ordinary rhyme, free rhyme, semantic rhyme, rhyme
Abstract
This research examines (Rhyme in the poems of Muhamed Omer Osman) and in this research we have been able to present thre characteristics or thre important types of rhyme in the poet's poems We have also tried to present the characteristics and system of formation of rhyme rules in the poet's poems , which are ordinary rhyme and free rhyme semantic rhyme This is the main purpose of our research.                          
References
کتێبەکان:
بەکوردی:
ئیسماعیل، ئەرسەلان بایز. (٢٠٠٣)، سیمای شیعری کوردی دوای ڕاپەڕین(١٩٩٢-٢٠٠٢)، چاپی یەکەم، دەزگای چاپ و پەخشی سەردەم، سلێمانی.
حسێن، جەبار ئەحمەد. (٢٠٠٨)، ئیستاتیکای دەقی شیعری کوردی -کوردستانی عیراق(١٩٥٠-١٩٧٠)، چاپی یەکەم دەزگای چاپ و پەخشی سەردەم، سلێمانی.
خەزنەدار، مارف. (٢٠٠١)، مێژووی ئەدەبی کوردی، بەرگی یەکەم، چاپی یەکەم، چاپخانەی وەزارەتی پەروەردە، هەولێر.
شوانی، رەفیق. (٢٠٠٨)، ئەدەب بەکۆمەڵە وتارێکی ئەدەبی، چاپی یەکەم ، چاپخانەی وەزارەتی ڕۆشنبیری، هەولێر.
گەردی، عەزیز. (١٩٩٩)، سەروا، چاپی یەکەم، چاپخانەی وەزارەتی ڕۆشنبیری، هەولێر.
عوسمان، محەمەد عومەر، (٢٠١٩)، لەغوربەتا، کۆکردنەوە و ئامادەکردنی: ساڵح بێچارە، چاپی چوارەم، چاپخانەی چوارچرا، سلێمانی.
بە عەرەبی:
التونجي ، محمد .(١٩٩٩)، المعجم المفصل في ألأدب، الجزء الثاني، دار الكتـب العلمیة، بیروت-لبنان.
بە فارسی:
عباس، ماهیار. (١٣٧٦)، عروض فارسی، چاپ سوم، چاپ افتاب، نشر قطرة، تهران.
کدکنی، محەمەد رچا شفیعی. (١٣٧٩)، موسیقی شیعر، چاپ ششم، مۆسهوا نتشارات آگاه، تهران.
گۆڤار.
علی، بەکر عومەر - مەعروف، عەبدولجەبار مستەفا. (٢٠١١)، سنووری کێڵگەیی واتایی لە وشەی بێگانەو ڕەنگدا، گۆڤاری زانکۆی سلیمانی، بەشیB، ژمارە ۳۱ .
عمر، پەیمان محەمەد - عبدالرحمن، حسین عثمان. (٢٠١٩) ، بەرجەستەکرنا سەروا واتایی د هوزانا کوردیدا، گۆڤاری زانکۆ بۆ زانستە مرۆڤایەتییەکان، زانکۆی زاخۆ ، بەرگی ۲۳، ژمارە ٤.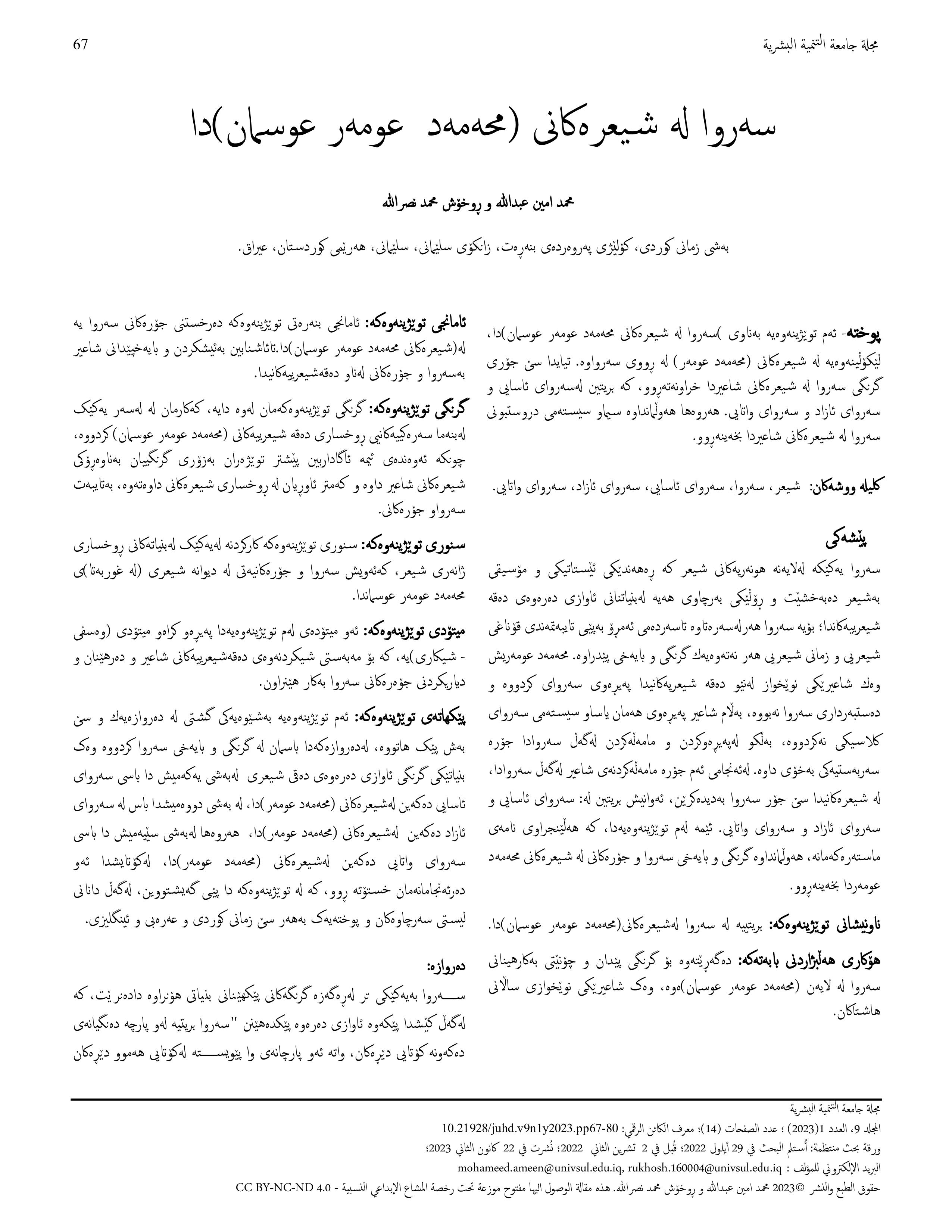 License
Copyright (c) 2023 Rukhos Muhammad Nasrulla, Mohameed Ameen
This work is licensed under a Creative Commons Attribution-NonCommercial-NoDerivatives 4.0 International License.