The impact of Facebook on the formation of public opinion
The students of Sulaymaniyah University as sample
Keywords:
Influence, Social media, Facebook, Formation, Public Opinion
Abstract
This study, entitled (the impact of Facebook on the formation of public opinion The students of Sulaymaniyah university as sample),discusses two variables (Facebook and public opinion), and determines the degree of influence of Facebook on public opinion, through the distribution of survey forms to the sample. The research aimed to answer the question: the power of Facebook to create a view of a specific audience regarding a specific subject that had no information about before, or had been scattered, but Facebook reorganized the view, changed and reshaped it? The study pursues this goal and ultimately achieves it.
This study is a descriptive research and relies on the coverage method, to discuss its practical aspects through the implementation of a special survey for this purpose. Media students at the University of Sulaymaniyah have been asked about Facebook's impact on the formation of public opinion.
The study concluded that Facebook sometimes had impact on the formation of public opinion and has been able to influence opinions on a particular topic, and helped to form a stable view on the issues and sometimes being able to provide appropriate information about different issues, these findings are presented in figures and data in the research.
References
یەكەم: كتێب بە زمانی كوردی:
گۆدەرزی، سیاوەش (2012) پێشوەچوونە میدیاییەكان، چاپخانەی ئاراس، هەولێر.
ئیبراهیم، عەبدولخالق (2014) میدیای كوردی لەسەردەمی ئاسمانە كراوەكاندا، چاپخانەی موكریانی هەولێر.
عزی، عەبدولرەحمان و. بەهزاد حەوێزی (2012)دەستەواژە نوێیەكانی میدیاو پەیوەندیپێكردن،چاپخانەی رۆشنیری، هەولێر.
سالح، مەجید (2004) بنەما تیۆرییەكانی رای گشتی و راگەیاندن، لە ماڵپەڕی وێكپیدیا بەشێوەی ئەلەكترۆنی بەردەستە.
مەجید، هێمن (2017 - 2018) كۆباسەكانی وانەی دیدی گشتی لە زانكۆی سلێمانی. كۆلێجی زانستە مرۆڤایەتیەكان. بەشی راگەیاندن. بۆ ساڵی خوێندنی 2017 – 2018.
دووەم: كتێب بە زمانی ئینگلیزی:
David L.Paletz and others,(2012) 21st Century American Government and Politics, v. 1.0, Duke University Press.
Kotkavuori Veera Anniina (2015) University of Helsinki, Faculty of Social Sciences, Social Psychology, Master's Thesis, October 2015 The role of Facebook and extraversion in the formation and maintenance of individuals' social capital,
Holtz-Bacha and Strömbäck (2012). Holtz Strömbäck Christina -Bacha and Jesper , Opinion Polls and the Media, Reflecting and Shaping Public Opinion, UK, PALGRAVE MACMILLAN publisher,
سێیەم: ماڵپەڕی ئەلیكترۆنی:
http://beshared.bg/en/News/The-3-main-functions-of-Facebook-posts
https://www.britannica.com/topic/public-opinion
http://www.preservearticles.com/2014071933487/importance-of-public-opinion-in-every-society.html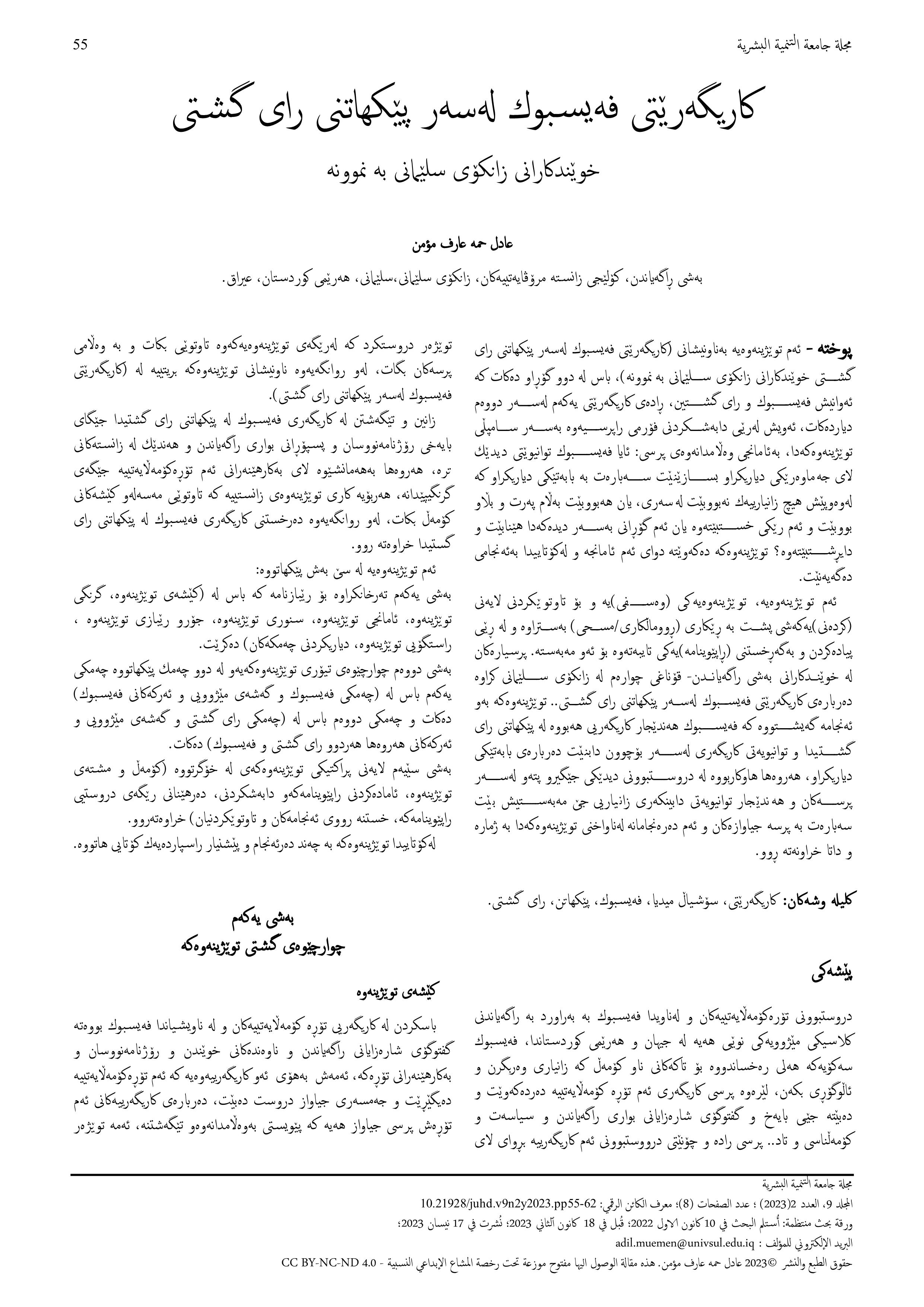 License
Copyright (c) 2023 Adil Hama Arif Muemen
This work is licensed under a Creative Commons Attribution-NonCommercial-NoDerivatives 4.0 International License.