Role of professional Environment on Content Editing in Kurdish Satellite Channels
Descriptive Research
Keywords:
Role, Professional Environments, Content editing, Kurdish satellite
Abstract
This research in time with the wide range of  the democracy and ethics duty spreads  in KRG Television station  out of any requirements on the journalist's, day after day everything gets changed, but the action will request more awareness of how to collect and edit the information and how to broadcast it. The objectives of this research relate to a warning about how the media content influences the political environment on the KRG satellite Channels. For this reason, this research depends on the survey methodology, a survey to find out the opinions of expertise and employees in the news Kurdish satellite channel in the Kurdistan Region-Iraq, duration from February, 1st till August 1st, 2022. The conclusion of the research shows that more than half of journalists relate to the ideological and parties owner of the news channels in the Kurdistan Region-Iraq. On the other hand, the researchers come to the conclusion that the political environment affected the media contents. At the same time, besides the demography of the research, there are no differences in measurements that will reveal the positive direction. All the journalists thought that the environment skills have a positive effect on the media editing contents especially on the media's sample research, there is only the difference between the gender return to male.
References
تا دەرچواندنی پەیماننامەیەکی شەرەفی میدیایی، وەک پێداویستییەکی هەنووکەیی؛ دەزگا میدیاییەکان لە ناوخۆی دەزگاکانیاندا پرەنسیپێکی میدیایی دابڕێژن، یان هەوڵ بدەن ئاکارە خوودییەکان پەیڕەو بکەن.
توێژەران هەوڵ بدەن توێژینەوەی بەراوردکاری ئەنجام بدەن سەبارەت بە بەئاگابوون بەژینگەی پیشەیی کاری ڕۆژنامەنووسان لەنێوان هەرێمی کوردستان و ناوەند(عێراق).
سەرچاوەکان
سەرچاوەی کوردی:
بەهرۆز عەلی، هونەری هەواڵ نووسین، چ١، (سلێمانی، چاپخانەی کارۆ، ٢٠١٨).
سابیر بۆکانی، میتۆدی توێژینەوەی زانستی، چ٢، (سلێمانی، هەرێمی کوردستان، چاپ و بڵاوکردنەوەی چوارچرا، ٢٠١٥).
کارزان محەمەد، سانسۆری ڕۆژنامەگەریی لە هەرێمی کوردستاندا، چ١، (سلێمانی، بەرێوەبەرێتی چاپ و بڵاوکردنەوەی سلێمانی، ٢٠١١).
سەرچاوەی عەرەبی:
حسن عماد مكاوي و ليلى حسين السيد, الاتصال ونظرياته المعاصرة, ط١, (القاهرة, الدار المصرية اللبنانية, ١٩٩٨).
خالد مجد الدين محمد, صناعة الاخبار في عصر المعلومات, ط١، (القاهرة, دار الامين, ٢٠٠٧).
خالد مجد الدين محمد, صناعة الاخبار في عصر المعلومات, ط١، (القاهرة, دار الامين, ٢٠٠٧).
رقية المصدق, الحريات العامة و حقوق الانسان, ط١, (الدار البيضاء, مؤسسة كونراد آديناور, ١٩٩٩).
عبدالجواد سعيد محمد, فن الخبر الصحفي, ط١، (القاهرة, دار الفجر للنشر, ٢٠٠٥).
عبدالجواد سعيد محمد, فن الخبر الصحفي, ط١، (القاهرة, دار الفجر للنشر, ٢٠٠٥).
عبدالفتاح عبدالنبي, سوسيولوجيا الخبر الصحفي, (القاهرة, العربي للنشر والتوزيع, ١٩٨٩).
محمد سلمان الحتو, مناهج كتابة الأخبار الاعلامية وتحريرها, ط١, (الأردن, دار أسامة للنشر والتوزيع, ٢٠١٢).
مشعل سلطان عبدالجبار, أيدولوجيا الكتابة الصحفية, ط١, (عمان, دار أسامة للنشر, ٢٠١٢).
مشعل سلطان عبدالجبار, أيدولوجيا الكتابة الصحفية, ط١, (عمان, دار أسامة للنشر, ٢٠١٢).
منى سعيد الحديدي و سلوى امام على, الاعلام والمجتمع, ط١، (القاهرة, الدار المصرية اللبنانية, ٢٠٠٤).
نبيل عبد الحميد عبدالجبار, تأريخ الفكر الاجتماعي، ط1, (الأردن, دار دجلة، ٢٠٠٩).
وسام فاضل راضي و مهند حميد التميمي, الاتصال ووسائله الشخصية والجماهيرية والتفاعلية, ط١, (الامارات- لبنان, دار الكتاب الجامعي, ٢٠١٧).
توێژینەوە:
بەهات حسیب علي, العوامل المؤثرة في التغطية الخبرية، دراسة دكتورا غير منشورة، (هەولێر-کوردستان-عراق, جامعة صلاح الدين, ٢٠١٦).
خليل ابراهيم فاخر, بيئة العمل الصحفي في العراق, رسالة ماجستير غير منشورة, (جامعة بغداد, كلية الاعلام, ٢٠٠٨).
دحام علي حسين العبيدي, المصادر الاخبارية للجمهور في العراق, رسالة ماجستير غير منشورة, (جامعة بغداد, كلية الاعلام, ٢٠٠٥).
سامية أحمد هاشم, انعكاس البيئة الاعلامية على القائم بالاتصال, أطروحة دكتورا غير منشورة, (جامعة بغداد, كلية الاعلام, ٢٠٠٦).
صباح عواد محمد, ضغوط العمل لدى القائم بالاتصال في الصحافة العراقية, دراسة منشورة, (مجلة الآداب والعلوم الانسانية, المجلد ٨٤، العدد ٣, ٢٠١٧).
علم الدين عبدالله أحمد, معايير التغطية الاخبارية في التلفزيون, اطروحة دكتورا غير منشورة, (جامعة بغداد, كلية الاعلام, ٢٠٠٦).
فتحية ابراهيم محمد الشيخ, فاعلية المعايير المهنية في نشرات الأخبار التلفزيونية, اطروحة دكتورا غير منشورة, (جامعة السودان, الدراسات العليا, ٢٠٢١).
سەرچاوەی ئینتەرنێت:
https://owenspencer-thomas.com/journalism/newsvalues.
https://archive.org/details/library-elhamma-14582021/page/24/mode/2up.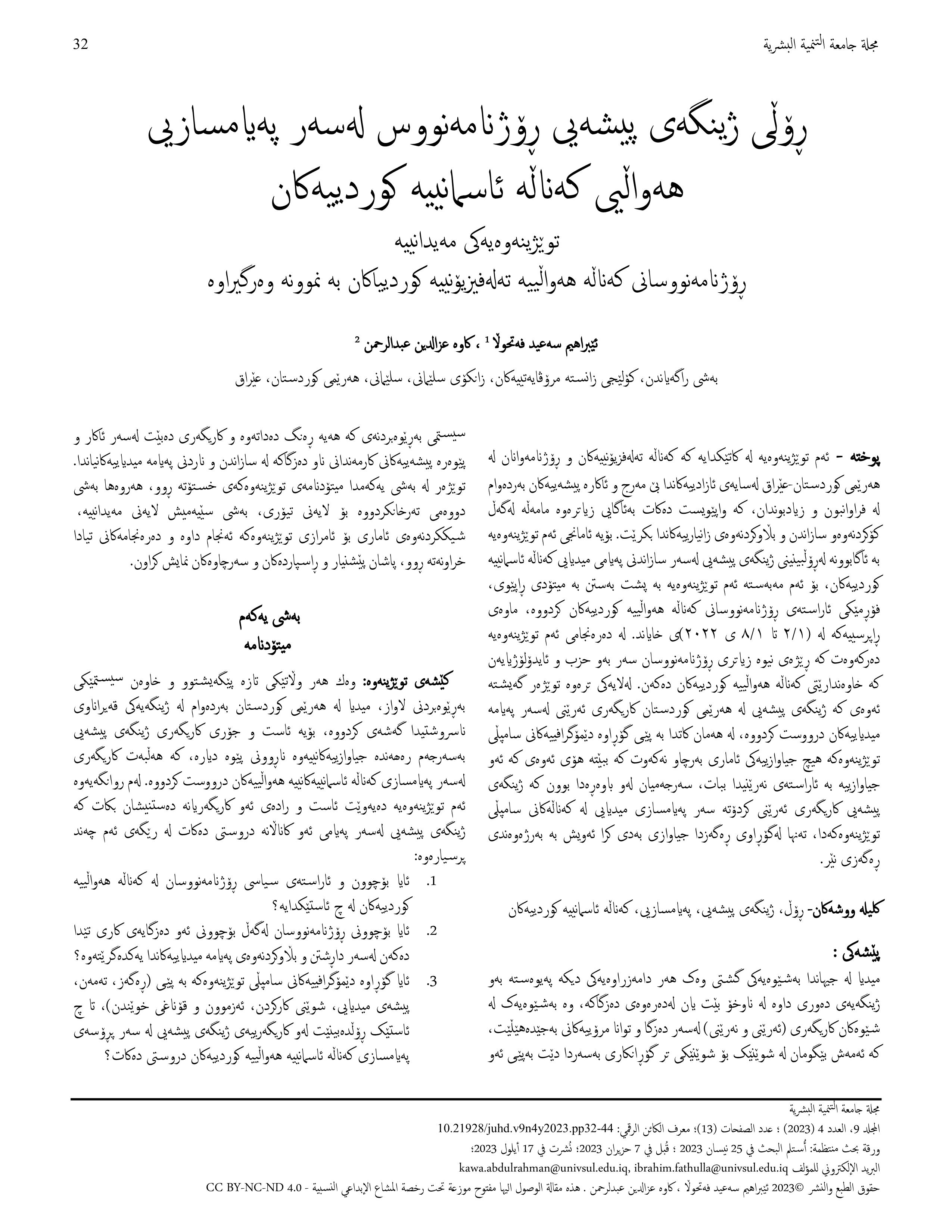 How to Cite
Fathulla, I. S., & Abdulrahman, K. E. . (2023). Role of professional Environment on Content Editing in Kurdish Satellite Channels: Descriptive Research . Journal of University of Human Development, 9(4), 32–44. https://doi.org/10.21928/juhd.v9n4y2023.pp32-44
License
Copyright (c) 2023 Ibrahim Saeed Fathulla, Kawa Ezzaddin Abdulrahman
This work is licensed under a Creative Commons Attribution-NonCommercial-NoDerivatives 4.0 International License.