The Journey of Ibn Battlan: An Objective and Artistic Study
Keywords:
Travel literature, Ibn Battuta, Ibn Ridwan, Objective study, Artistic study
Abstract
 Literature in general reflects the reality of nations in every time and place, especially travel literature, which enables the author to travel here and there to witness the reality of different peoples, record their observations and experiences. Thus, travel literature has become a rich record of the events of the era, serving as a witness to it. The value of travel lies in the information it contains, mixed with the culture of its writer. For this reason, Arabs have been interested in it, both in the past and present. It has become fertile ground for many research and studies. Recognizing the importance of travel literature, we have chosen the topic of "The Journey of Ibn Battlan: An Analytical Study." The aim of this study is to reveal the importance of travel literature in portraying reality and the character of our protagonist, Ibn Battlan, as well as the factors that led him to undertake his journey. This research is not the first of its kind, as there have been numerous studies that have shed light on the path ahead of us. Thus, this study serves as a successor to previous studies and a precursor to those that will follow. As for the structure of the research, we have divided the scientific material into three sections. The first section discusses travel literature and the translation of Ibn Battlan. Then, the second section describes our protagonist's journey, highlighting its importance and revealing its content. Finally, the third section introduces us to the distinctive characteristics of the content of this journey.
References
القرآن الكريم
ابن أبي أصيبعة ، أحمد بن القاسم بن خليفة السعدي المعروف بابن أبي أصيبعة ،بلا تاريخ ، عيون الأنباء في طبقات الأطباء ، د.ط ، تحقيق : د.نزار رضا ، دار مكتبة الحياة، بيروت .
الحموي ، شهاب الدين ياقوت بن عبد الله الحموي ، 1977م ، معجم البلدان ، د. ط ، دار صادر ، بيروت .
أبو داود ، أبو داود سليمان بن الأشعث السجستاني ، 2009 م ، سنن أبي داود ، د. ط ، حققه : شعيب الأرناؤوط و محمد كامل ، دار الرسالة العالمية ، دمشق .
ابن العبري ، أبي الفرج بن أهرون المعروف بابن العبري ، 1977م ، تاريخ مختصر الدول ، ط 1، وضع حواشيه : خليل المنصور ، دار الكتب العلمية ، بيروت .
القفطي ، جمال الدين علي بن يوسف القفطي ، 2005 م ، إخبار العلماء بأخبار الحكماء ، ط1، تحقيق : إبراهيم شمس الدين ، دار الكتب العلمية ، بيروت .
ابن منظور ، جمال الدين محمد بن مكرم بن منظور ، 2003 م ، لسان العرب ، دار الحديث، القاهرة .
المراجع
أرسلان ، شكيب أرسلان ، بلا تاريخ ، الحلل السندسية في الأخبار والآثار الأندلسية ، د. ط ، دار مكتبة الحياة ، بيروت .
ثويني ، حميد آدم ثويني ،2006 م ، فن الأسلوب ، ط1 ، دار صفاء للنشر ، عمان .
الزركلي ، خير الدين الزركلي ، 2002 م ، الأعلام ، ط15 ،دار العلم للملايين .
زيدان ، جرجي زيدان ،1913 م ، تاريخ آداب اللغة العربية ،د. ط ، مطبعة الهلال ، مصر.
سليمان ، سالم عبد الرازق سليمان ، 2008 م ، ترسل الشعراء في الأندلس ، دار المعرفة الجامعية ، مصر .
فرح ، فايز فرح ، بلا تاريخ ، رحلات وحكايات ، د .ط ، دار المعارف ، مصر .
فهيم ، حسين محمد فهيم ، 1989 م ، أدب الرحلات ، د . ط ، المجلس الوطني للثقافة ، الكويت .
قنديل ، فؤاد قنديل ،2002 م ، أدب الرحلة في التراث العربي ،ط1 ، الدار العربية للكتاب، القاهرة .
كراتشكوفسكي ، 1965 م ، تاريخ الأدب الجغرافي العربي ، د. ط ، نقله إلى العربية : صلاح الدين هاشم ، لجنة التأليف والترجمة والنشر .
مصطفى ، طارق مصطفى ، 2019م الرسائل بين العهدين : الفاطمي والأيوبي ،د .ط ، دار المعرفة الجامعية ، مصر.
موافي ، ناصر عبد الرازق الموافي ،1995 م ، الرحلة في الأدب العربي ، ط1 ، مكتبة الوفاء، مصر .
الدوريات
جريدة الشرق الأوسط ، أغسطس 2005م ، العدد 9745 .
مجلة العربي ، أكتوبر 1977م ، العدد 227.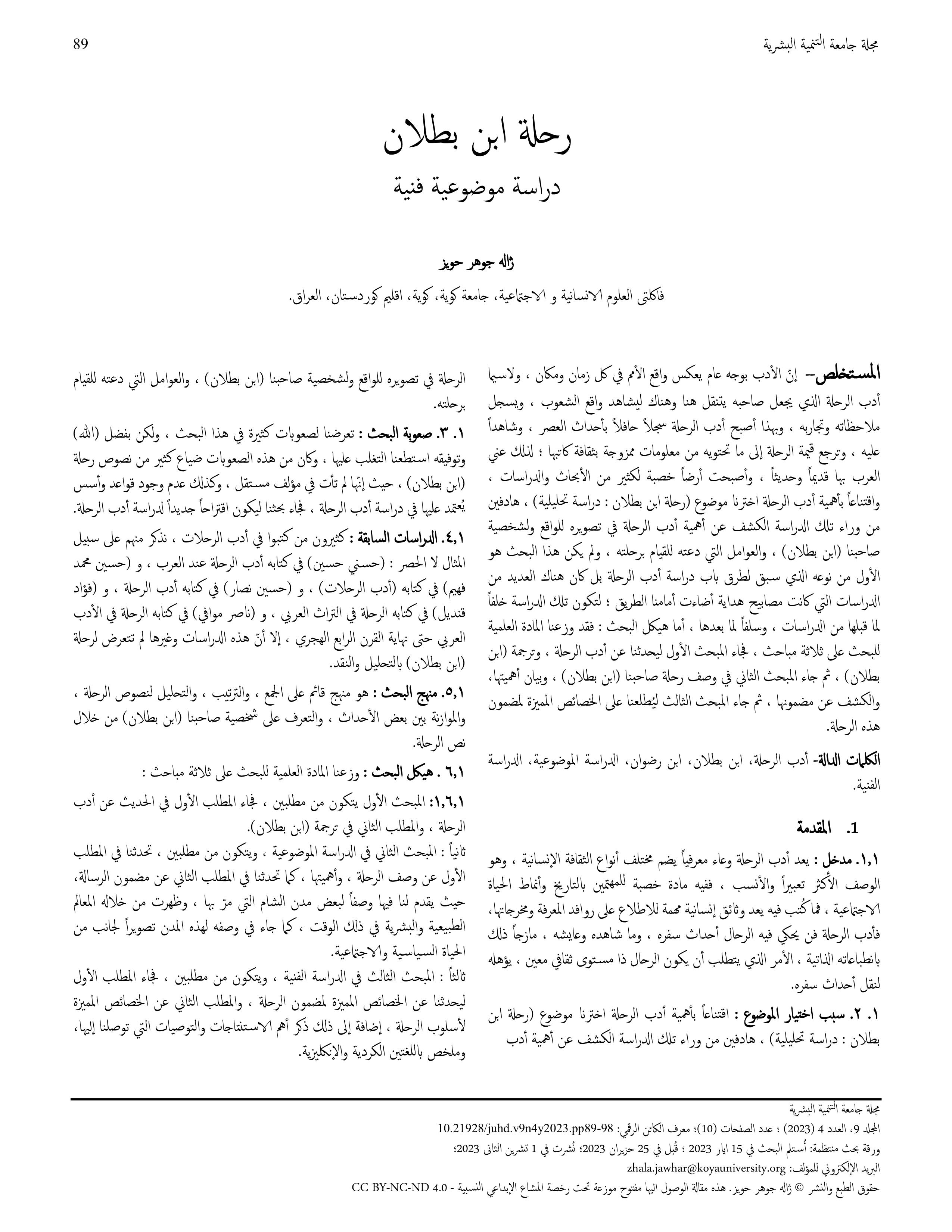 How to Cite
Hawez, Z. J. (2023). The Journey of Ibn Battlan: An Objective and Artistic Study. Journal of University of Human Development, 9(4), 89–98. https://doi.org/10.21928/juhd.v9n4y2023.pp89-98
License
Copyright (c) 2023 Zhala Jawhar Hawez
This work is licensed under a Creative Commons Attribution-NonCommercial-NoDerivatives 4.0 International License.