Non -verbal Politeness in English Etiquette Books and Prophetic Sunnah
Keywords:
Etiquette, Facial expression, Non-verbal politeness, Prophetic Sunnah, Proxemics
Abstract
Non-verbal politeness is an important feature that characterizes human communication. Through this type of communication one can find a high degree of sophistication and civility in the language of the body, as this type of language can say and express more than language itself. Thus, there should be a use of certain cues to express courtesy and politeness such as: facial expression, eye contact, gestures, posture, and proxemics. This study aims at explaining the role of the different forms of non-verbal politeness in Prophetic Sunnah and the British etiquette books in particular, then analyzing these texts within the eclectic model of this study, highlighting points of similarity and difference between the two cultures. It is hypothesized that the two cultures display different orientations to the ways of acting non-verbally. The model adopted in this study is Martin and Nakayama (2010) with reference to Andersen (1999), Poyatos (2002) and Koneru (2008) within the framework of Brown and Levinson's model of politeness and in accordance with Hofstede's (2001) cultural values. The main conclusions of the current study are: (i) Non-verbal politeness almost goes hand in hand with other forms of verbal politeness. (ii) Non-verbal politeness is employed differently in both the Prophetic Sunnah and English etiquette books. (iii) Islamic Sunnah as compared to English etiquette books concentrates on cordiality and maintaining positive politeness among Muslims, while English etiquette texts emphasize individuality and negative politeness.
References
Al-Samarrai, M. B. (2015). English- Christian and Arabic- Islamic Etiquette Teachings. Lambert: Academic Publishing.
Andersen, P. (1999). Nonverbal Communication: Forms and Functions. Mayfield: Mountain View Company.
Bowden, M. (2010). Winning Body Language: Control the Conversation, Command Attention, and Convey the Right Message- Without Saying a Word. NY: Mc Graw Hill Professional.
Brown, P. & Levinson, S. (1987). Politeness: Some Universals in Language Usage. Cambridge: Cambridge University Press.
Brown, P. and Levinson, S. (1992). 'Left' and 'right' in Tenejapa: Investigating a linguistic and conceptual gap. In L. de León and S.C. Levinson (eds.), Space in Mesoamerican languages (pp. 590-611). Berlin: Akademie Verlag.
Bousfield, D. (2008). Impoliteness in Interaction. Amsterdam: John Benjamin Publishing.
Calero, H. (2005). The Power of Nonverbal Communication. Los Angles: Silver Lake Publishing.
Caston, Jan. (1984) . Cultural Awareness Teaching Techniques / Jan Gaston. –Vermont, p.90.
Chuchu, F. & Mahali, N. (2014). International Conference on Social Sciences and Humanities: Politeness in Advertisements Based On Non-Verbal Cues. 8-10 September 2014- Istanbul, Turkey.
Davis, D. (2014). How to Design a Life Worth Smiling About: Developing Success in Business and in Life. McGraw Hill Professional.
Ekman, Paul. (2007) Emotions revealed. New York: Holt.
Elen, G. (2001). A Critique of Politeness Theories. Manchester: St. Jerome Publishing.
Fukushima, S. (2003). Requests and Culture: Politeness in British English and Japanese. Germany: Peter Long AG.
Gabriele , J. (2009). Negative politeness disarms superiors, encouraging them to grant your requests. Polar Politeness Psychology Today . Published on September 01, 2000 - last reviewed on January 14
Gladstone, G. (2002). "When you're smiling, does the whole world smile for you?". Australasian Psychiatry. 10 (2): 144–146
Hartley, C. (2012). The Gentlemen's Book of Etiquette and Manual of Politeness. Boston: G.W. Cottrell Publisher.
Hartley, F. (2011). The Ladies' Book of Etiquette, and Manual. Boston: G.W. Cottrell, Publisher.
Hoque M., Morency, L., & Picard , R. (2011) Are You Friendly or Just Polite? – Analysis of Smiles in Spontaneous Face-to-Face Interactions. In: D'Mello S., Graesser A., Schuller B., Martin JC. (ed.) Affective Computing and Intelligent Interaction. ACII 2011. Lecture Notes in Computer Science, vol. 6974. Springer, Berlin, Heidelberg
Hassan ,A. &Mohd, A. (2005). SeniBercakap-cakapdanBerbual-bual. Kuala Lumpur: PTS Publications & Distributors.
Hofstede, G.(1994). Cultures and Organizations – Intercultural Cooperation and its importance. California: Sage Publications, Inc.
Hofstede, G. (2001). Cultures Consequences. California: Sage Publications, Inc.
Hofstede, G. & Hofstede, G. J. (2005). Cultures and Organizations: Software of the Mind. McGraw Hill.
Koneru, A. (2008). Professional Communication. New Delhi: Taha Graw Hill.
Leathers, Dale & Eaves, Michael. (2015). Successful Nonverbal Communication: Principles And Applications. Place of publication not identified: Routledge.
Martin, J. & Nakayama, T. (2010). Intercultural Communication in Contexts. New York: Mc Graw Hill Companies.
Novinger, T. (2001). Intercultural communication: a practical guide. Austin, TX: University of Texas Press.
Ogiermann, E. (2009) An Apologizing in Negative and Positive Politeness Culture. Amsterdam: John Benjamin Publishing,.
Pease, A. & Pease, B. (2004). The Definitive Book of Body Language. Australia: Pease International.
Eckert, P. & Mc Connel-Ginet, S. (2003). Language and Gender. Cambridge: Cambridge University Press.
Poyatos, F. (2002). Nonverbal Communication Across Disciplines: VII Paralanguage, Kinesics, Silence, Personal and Environmental Interaction. Amsterdam: John Benjamins Publishing Company.
Rising, B. & Carbonell, A. (2006). Culture and Communication. Georgia: College of Management.
Sahib, M. (2011). Western and Islamic Cultures on the Use of Non-Verbal Polite Expressions (A Cross-Cultural Understanding). Sulesana: V. 6, N. 2.
Thomas, J. (1995). Meaning in Interaction. Edinburgh: Longman.
Well, S. (2009). How to Behave: A Pocket Manual of Etiquette and Correct Personal Habits. Boston: The Floating Press.
Marina, R. (2015). International Conference "Linguistic and Cultural Studies: Traditions and Innovations", LKTI 2015, 9-11 November Tomsk, Russia Politeness Strategy in Everyday Communication.
Yule, G.( 1996). Pragmatics. Oxford: Oxford University Press.
Internet References
https://search.yahoo.com/yhs/search?hspart=iba&hsimp=yhs-1&type=46nt_8021_CHW_IQ&p=sunnah.com.
https://www.islamreligion.com/articles/4155/value-of-time/
Kuliyeva N., Salah, R. (Unpublished Paper on the Website - http://elib.bsu.by/bitstream/1/Kuliyeva ,N. &Salah, R. Etiquette of Nonverbal Communication in Britain and Iraq.
Mulder, P. (2009). Cultural Dimensions By Geert Hofstede. https://www.toolshero.com/communication-skills/hofstede-cultural-dimensions/
Thompson, S. (2017). Cultural Differences in Body Language to be Aware of / https://virtualspeech.com/blog/cultural-differences-in-body-language/.
Case, A. (2016). British Body Language. An Article on the Website-
https://www.usingenglish.com/articles/british-body-language.html.
المصادر العربية
القران الكريم.
النسائي, احَد ) 1991 ( سنن النسائي الكبَى. بيروت: دار الكتب العلمية.
البخاري, محمد بن اسماعيل ) 2002 (. صحيح البخاري. القاهر: دار الغد الجديدة.
ال ش يخ, صالح بن عبد العزيز. )بلا تاريخ(. الكتب الس تة: صحيح البخاري - صحيح مسلم- سنن ابي داود- جامع
الترمذي- سنن النسائي- سنن ابن ماجة. الريَض: دار السلام للنشر والتو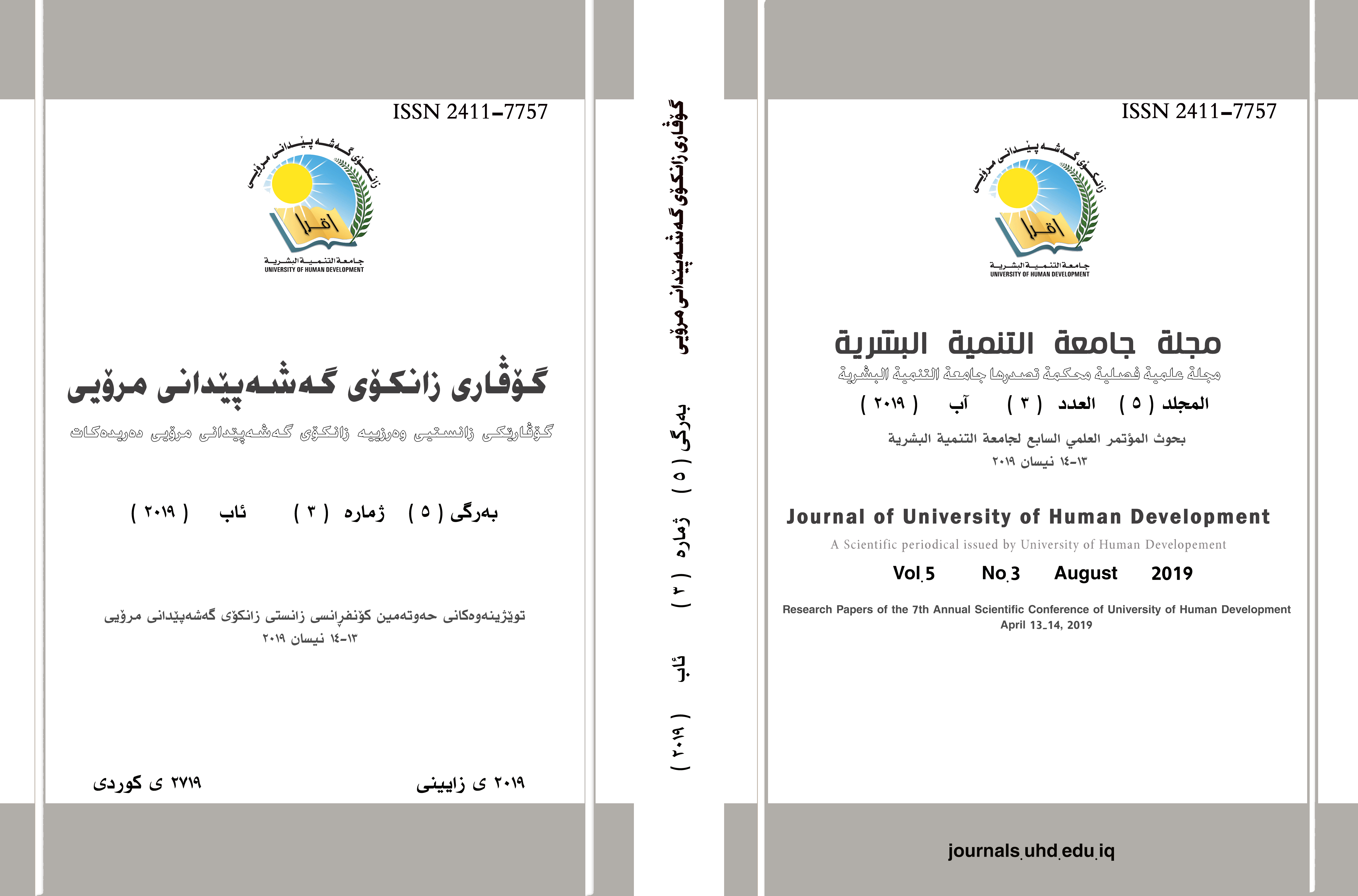 Downloads