The impact of internal audit in the activation of risk management under the governance of banks
Afsar Ali Alimoradi

Department of Accounting, College of Administration and Economics, University of Human Development, Sulaymaniyah, Kurdistan Region, Iraq.

http://orcid.org/0000-0002-4097-3603

Chya Kareem Ahmad

Department of Accounting, College of Administration and Economics, University of Human Development, Sulaymaniyah, Kurdistan Region, Iraq.

http://orcid.org/0000-0001-6403-7775
Abstract
The research aims to measure and evaluate the impact of internal audit on the efficiency of risk management under the principles of the bank governance in a sample of banks. Thus, internal audit is an important function of controlling financial and administrative performance. It has the impact of evaluating and measuring the efficiency of the use of available resources and strengthening the so-called governance as well as contributing to the assessment and management of risks, which enhances the opportunities of economic units and banks in the optimal use of resources.Internal Audit assists senior management and the board in the process of  theidentifying, assessing and responding to risks, by providing various assurance and advisory services during the implementation of the risk management process.
In order to achieve the objectives of the study and test its hypotheses, the study was based on primary and secondary data and the questionnaire was designed and the researchers used the Statistical Program (SPSS) to analyze the data.
It was concluded during the research that there is a clear impact of the internal audit profession on the risk management by improving its effectiveness and efficiency under the principles of bank governance shows through the internal audit has a prominent position in banks and because it is linked to the highest levels of management as an independent control and advisory tool.
The researchers present a set  of recommendations, the most important of which is the need to provide adequate financial and human resources for internal auditing in banks.
The study also recommended to strengthen the components of the independence of the internal auditor in order to be able to perform his duties to the fullest.
Key words :  Internal Audit , Risk Management , Banking Governance, Internal Auditor.
References
المصادرالعربية :
الذنيبات،علي"تدقيق الحسابات في ضوء معايير التدقيق الدولية و الأنظمة والقـوانين المحلية: نظرة وتطبيق "، الجامعة الأردنية ،الطبعةالأولي ، 2006.
الخطيب، خالد راغب، "مفاهيم حديثة في الرقابة المالية والداخلية في القطاع العام والخاص"، (ط 1)، عمان: مكتبة المجتمع العربي، 2010
العمري،أحمد محمد، وعبد المغني، فضل عبد الفتاح ،"مدى تطبيق معايير التدقيق الداخلي المتعارف عليها في البنوك التجارية اليمنية".المجلة الاردنية في ادارة الاعمال، المجلد الثاني، العدد الثالث 2006
الراوي، خالد وهيب، " إدارة المخاطر المالية "، دارالمسيرة للطابعة و النشر، 2011
السلامي، عارف عتيق. " مدى التزام شركات التأمين اليمنية بمعايير التـدقيق الداخلي" رسالة ماجستير غير منشورة، جامعة آل البيت، عمان، 2005.
المدهون، إبراهيم رباح ابراهيم،" في دور المدقق الداخلي في تفعيل إدارة المخاطر في المصارف الفلسطينية"، رسالة ماجستير،جامعة غزة ،2011
بن زوى،محمد شريف،"حوكمة الشركات الهندسة الماليه"، الطبعة الأولى، دارجامعي–الإسكندرية،2016
حماد، طارق عبد العال،" التحليل الفني والأساسي للأوراق المالية"، الدار الجامعية،2007
جربوع، يوسف محمود " مراجعة الحسابات المتقدمة وفقا لمعايير المراجعة الدوليـة" إصدار جمعية المحاسبين والمراجعين الفلسطينيين، غزة 2002.
سعودي، نور الإسلام، "دور التدقيق الداخلي في إدارة المخاطر المصرفية" رسالة ماجستير، جامعة قاصدي مرباح، 2015
علي، بلعزوز بن، و جبارة، عبد الرزاق، "الحوكمة في المؤسسات المالية والمصرفية، مدخل للوقاية من الأزمات المالية والمصرفية بالإشارة إلى حالة الجزائر، الملتقى العلمي الدولي حول الأزمات المالية والاقتصادية الدولية و الحوكمة العالمية"، جامعة فرحات عباس، 2009
عمار، بن عيشي، "تطبيق مباديء الحوكمة المصرفية و أثرها في جودة المعلومات المحاسبية"،جامعة بسكرة-الجزائر،2016
علم الدين، سلامة عبد الصانع أمين،"دور الرقابة فى حوكمة االوحدات"، دارالنهضة العربية للنشر-القاهرة، 2015
رضوان، ايهاب ىيب مصطفي، "اثر التدقيق الداخلي علي إدارة المخاطر في ضوء معايير التدقيق الدولية"، رسالة ماجستير،الجامعة الاسلامية-غزة، 2012
نجاة، أ.شملال ، "تقييم أثر التدقيق الداخلي على فاعلية وكفاءة نظام الرقابة الداخلية في ظل نظم المعلومات المحاسبية"، مجلة المالية و الأسواق، جامعة عبد الحميد بن باديس-مستغانم - الجزائر،2016

المصادر الاجنبية :
Barclay Simpson, 2005, "An Introduction to Internal Auditing in Banking".USA
The Institute Of Risk Management, 2002, "A Risk Management Standards", London: Airmic Publishing.
Alveen Arens ,2012, Auditing and Assurance Services ,14th - Avision for the future , Professional Practices framework for Internal Auditing , Altamonte Springs , 1999a , www.theiia.org Editio
The Institute Of Internal Auditors, 2009, "IIA Position Paper: The Role Of Internal Auditing In Enterprise-Wide Risk Management ", USA.

الانترنيت :
http://www.kenanaonline.com/users/ahmedkordy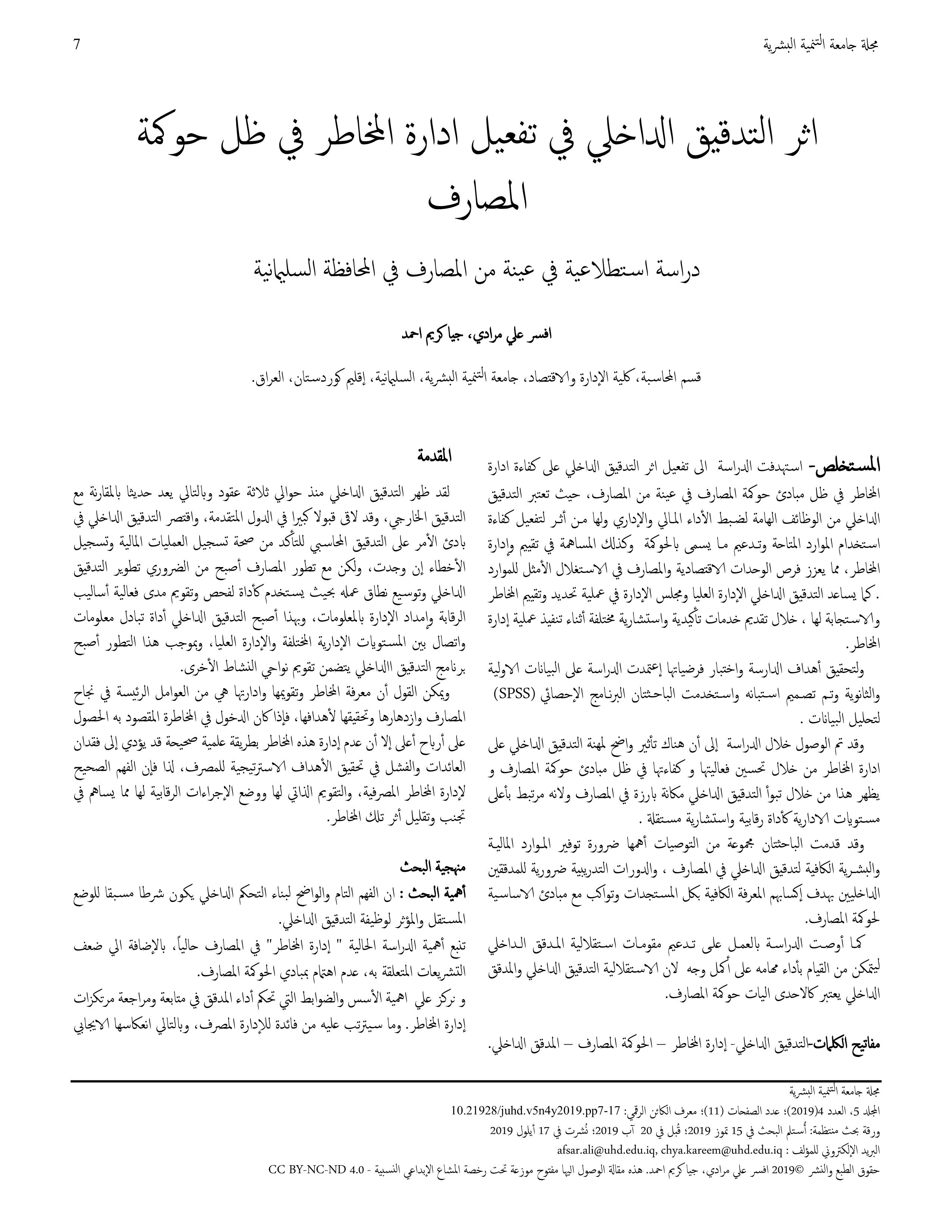 This work is licensed under a Creative Commons Attribution-NonCommercial-NoDerivatives 4.0 International License.