A Study on Setting up a Database for Maternal Health Care Program in Darbandikhan-Kurdistan
Keywords:
Database, Maternal Health Care Program, Program Indicators
Abstract
There are around 8.64 million women in Iraq who need to maternal health. While, maternal health program in Iraq is considerably down regulated, the vertical national health program, maternal health, has been not monitored appropriately. The aim of this study was to determine the most essential preliminary indicators for monitoring maternal health program in Kurdistan/ Iraq, and to assess those technical challenges for computerizing the maternal health program of Kurdistan Regional Government. This is interventional hospital based study which was carried out in Darbandikhan district- Kurdistan State. An access database was developed for entering whole records of the maternal health program components data in the 200 mothers' file. And, we got staff belief about database. The study has shown that antenatal care visit record would be a good indicator for assessing maternal health program, when the program was computerized. And, the staff had a positive attitude to computerize the program. This database could accelerate the monitoring and evaluating the maternal health program in considering to indicators of the program.
References
[1] United Nations. Department of Economic and Social Affairs. Population Division 2013. World Population Prospects: The 2012 Revision, DVD Edition
[2] Gilbert Burnham. Perceptions and utilization of primary health care services in Iraq: findings from a national household survey. BMC International Health and Human Rights 2011, 11:15.
[3] Therese A Wiegers. The quality of maternity care services as experienced by women in the Netherlands. BMC Pregnancy and Childbirth 2009, 9:18 doi:10.1186/1471-2393-9-18.
[4] WHO. Maternal, child and reproductive health strategy in Iraq 2008
[5] Ala'din Alwan. Health in Iraq: The Current Situation, Our Vision for the Future and Areas of Work. Ministry of health
[6] United Nations. Catharine Way, The Millennium Developing Goals report, United nation-New york, 2015.
[7] WHO. E-Health and innovation in women and children health-2013 survey, Atlas of e Health Country Profiles. http://www.who.int/goe)
[8] WHO. Country statistics and global health estimates by WHO and UN parter,2015.
[9] USAID-Iraq. Primary health care: Recording and Reporting of Maternal Deaths in Iraq. October,2012.
[10] USAID Iraq- access: Focused antenatal care: primary integrated, individualized care during pregnancy, February, 2007.
[11] WHO. Conflict and humanitarian crisis in Iraq; Public health risk assessment and interventions, 2014. http://www.who.int/disasters
[12] Nazar P Shabila, Namir G Al-Tawil1, Tariq S Al-Hadithi1, Egbert Sondorp and Kelsey Vaughan. Iraqi primary care system in Kurdistan region: providers' perspectives on problems and opportunities for improvement. BMC International Health and Human Rights 2012, 12:21 http://www.biomedcentral.com/1472-698X/12/21)
[13] WHO. E-Health and innovation in women and children health-2013 survey, Atlas of e Health Country Profiles. http://www.who.int/goe).
[14] Nazar P Shabila, Hamdia M Ahmed, and Maryam Y Yasin. Women's views and experiences of antenatal care in Iraq: a Q methodology study BMC Pregnancy Childbirth. 2014; 14: 43: PMCID: PMC3902000 Published online 2014 Jan 23. doi: 10.1186/1471-2393-14-43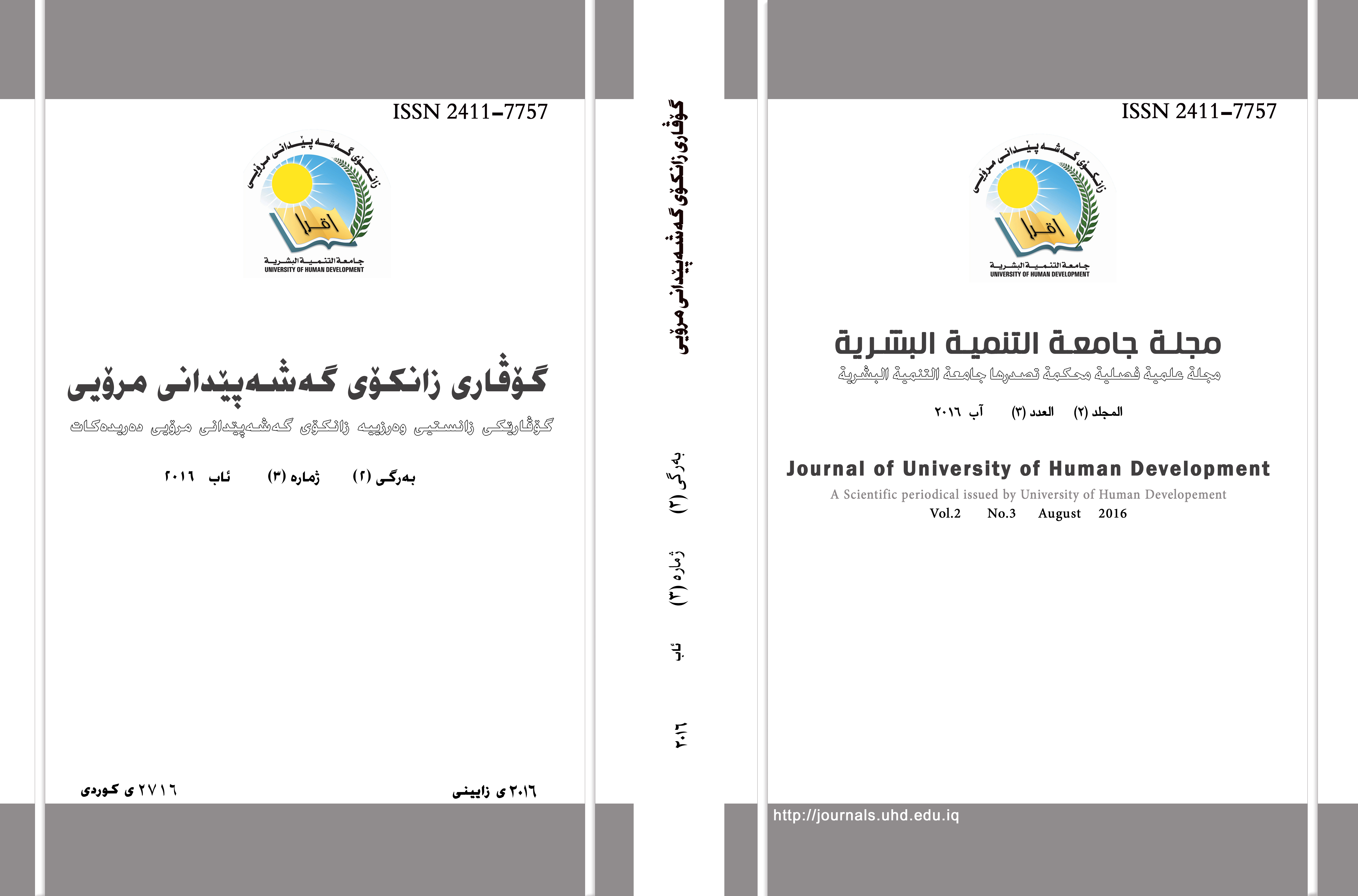 Downloads