Challenges and Factors affecting the implementation of e-Government in Iraq
Keywords:
E-Government, Iraqi e-Government, E-Governance, E-Services, Challenges, Factors
Abstract
e-Government refers to the use of Information Technology by the government agencies, namely, the Internet, Mobile Computing and Wide Area Network which have the ability to transfer relations with businesses, citizens, other governments and the other arms of the government. Therefore, the main facilities of the e-Government is to provision of relevant government information in electronic form to the citizens in a timely manner, empowerment of the people through access to information without the administration, make the best delivery to citizens, enhanced productivity and reduce cost or saving cost in doing business with suppliers and customers of government and contribution in public policy decision making. The primary objective of this paper is to review the available and up to date literature about e-Government implementation stages, its benefits and challenges. Depending on literature, the paper reviews a number of relevant issues regarding Iraqi e-Government, namely, e-Government definition, implementation stages, 'e-readiness', the benefits of e-Government implementation and it focuses on the challenges of Iraqi e-Government implementation.
References
[1] M. A. Alshehri and S. Drew, "Implementation of e-Government: Advantages and Challenges," Int. Conf. E-Activity Lead. Technol. 2010, pp. 79–86, 2010.
[2] P. Work, A. Ask, and M. Al-dabbagh, "Electronic Government in Iraq : Challenges of development and implementation," pp. 1–16, 2011.
[3] W. Jabbar, A. Ramasamy, and M. Othman, "CITIZEN IDENTIFICATION SYSTEM OF IRAQ : CHALLENGES AND BARRIERS IN ENABLING E - GOVERNMENT SERVICES," no. 125, pp. 399–404, 2013.
[4] A. A. Rabaai, "An Empirical Investigation on the Adoption of e-Government in Developing Countries: The Case of Jordan," Comput. Inf. Sci., vol. 8, no. 3, 2015.
[5] S. R. I. Lanka, "EVALUATING THE ADOPTION OF E- GOVERNMENT IN SRI LANKA : A CITIZENS 'PERSPECTIVE' MSc in Information Systems."
[6] P. Chatzoglou, "Factors affecting the intention to use e-Government services : an extended approach," vol. 5, pp. 1489–1498, 2015.
[7] Heeks, R. (2003) Most E-Government-for-Development Projects Fail: How Can Risks Be Reduced. [Online] Available:
http://unpan1.un.org/intradoc/groups/public/documents/cafrad/unpan011226.pdf
[8] A. C. Approach and S. M. Shareef, "E-Government Initiatives in Kurdistan Region of Iraq :" pp. 1–3.
[9] A. Lect and H. Hasan, "E-Government in Iraq," vol. 14, no. 4, pp. 183–198, 2010.
[10] Getrude Ntulo and J. Otike, "E – GOVERNMENT: ITS ROLE, IMPORTANCE AND CHALLENGES," vol. 53, no. September 2013, pp. 1–36, 2013.
[11] M. A. Mohammed, I. Huda, and M. N. Maslinda, "ELECTRONIC INFORMATION SHARING BETWEEN PUBLIC UNIVERSITIES AND MINISTRY OF HIGHER EDUCATION AND SCIENTIFIC RESEARCH : A PILOT STUDY," J. Theor. Appl. Inf. Technol., vol. 77, no. 2, pp. 151–164, 2015.
[12] M. Georgescu, "Challenges for E-Government Strategy," vol. 3, no. 3, pp. 60–63, 2007.
[13] F. Zhao, K. N. Shen, and A. Collier, "Effects of national culture on e-government diffusion—A global study of 55 countries," Inf. Manag., vol. 51, no. 8, pp. 1005–1016, 2014.
[14] Patel, H. and Jacobson, D, "Factors Influencing Citizen Adoption of E-Government:" A Review and Critical Assessment. Proceedings of the 16th European Conference on Information Systems, Galway, 9-11 June 2008, 176-188.
[15] O. O. Richard, "E-GOVERNMENT IN DEVELOPING COUNTRIES : THE CASE OF NIGERIA Olusoyi Olatokunbo Richard, Ashaye," no. April, 2014.
[16] United Nations. (2016) UN e-Government Survey on Iraq. [Online]. Available:
https://publicadministration.un.org/egovkb/en-us/Data/Country-Information/id/80-Iraq/dataYear/2014
[17] S. Al-Shafi, and V. Weerakkody. "Factors affecting e-government adoption in the state of Qatar". 2010.
[18] S. AlAwadhi, and A. Morris. "Factors influencing the adoption of e-government services". Journal of Software. vol. 4, no. 6, pp. 584-590, 2009.
[19] Al-hawari, A., Mohammad Ahmad, and M. Samar. "The influence of technology acceptance model (tam) factors on students' e-satisfaction and e-retention within the context of uae e-learning". Education, Business and Society: Contemporary Middle Eastern Issues. vol. 3, no. 4, pp. 299-314, 2010.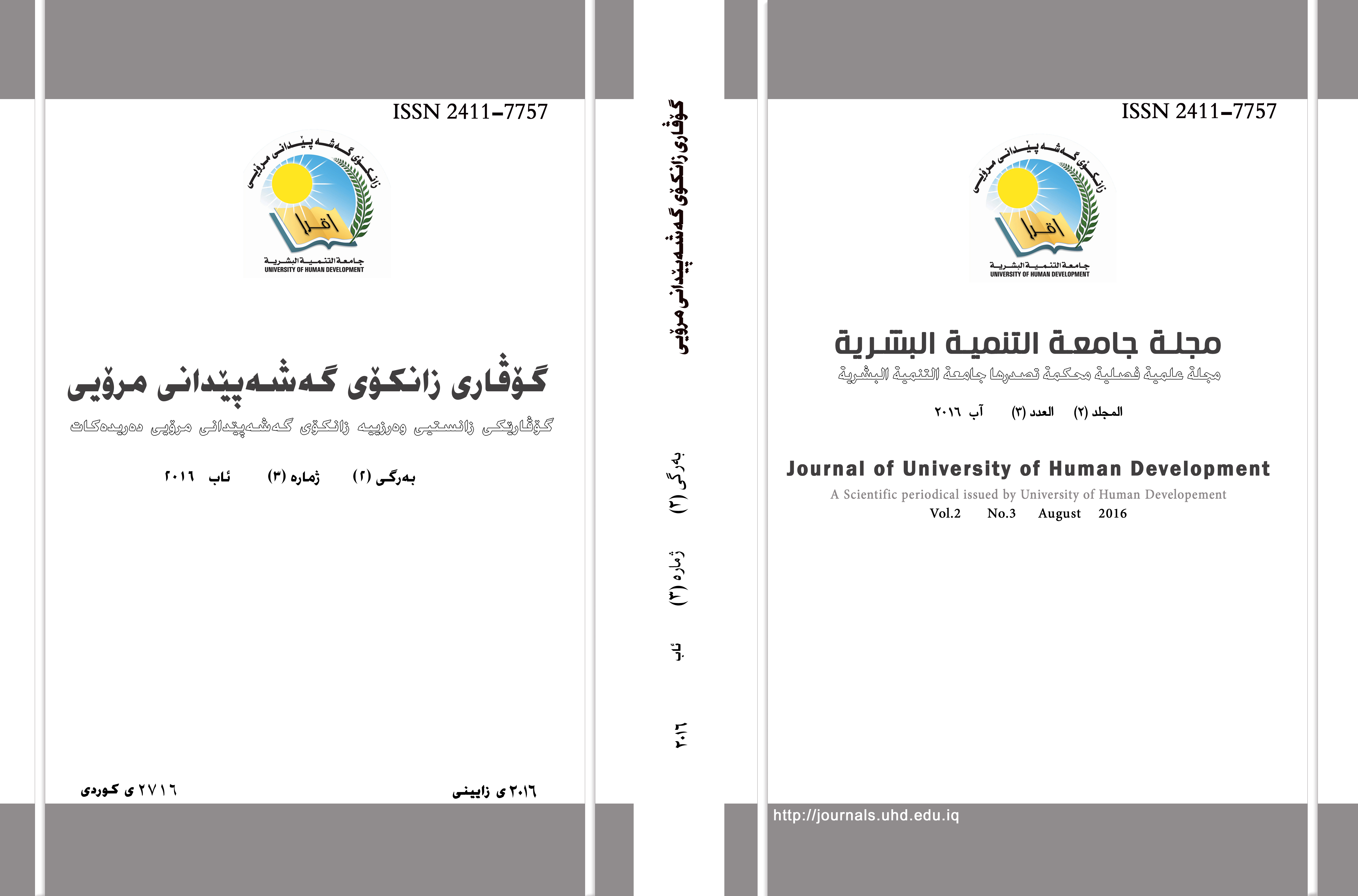 Downloads