Foreign Direct Investment and its Impact on Development of the Tourism Sector in Kurdistan Region – Iraq
Keywords:
Finance, Finance investment, Foreign investment, Tourism, Kurdistan Region
Abstract
Countries seek to attract foreign investment because of the benefits that expect and the positive effects which these investments can have on their economies. However, these investments are looking for a safe of investment environment to work in their conditions of economic safety and legislation and regulations that would facilitate their work freely without restrictions or government control; as well as, the security and political stability, which is a prerequisite for directing these investments to a certain economy. This is clearly in the Kurdistan Region - Iraq. Thus, given the importance of the tourism sector in the economies of most countries and its clear role in economic and social development, many countries have given their attention to tourism investment, which is an important source of their economic resources. Developing countries have started developing plans and strategies based on field scientific studies and theory for the development of the tourism sector and development. This is so that this sector is the cornerstone of the pyramid interest of the power in most developed countries and territories including the Kurdistan Region of Iraq. Where, the territory occupies an important place through its geographical location and its potential tourism in different directions and diversity of tourism characteristics. Based on the above, the selection of foreign direct investment and its impact on the development of the tourism sector in the Kurdistan Region - Iraq has been the subject of research. This aimed in identifying the reality of direct investment in Kurdistan Region and its impact on the development of the tourism sector. Thus, identifying the most important challenges facing, it so that it can make a number of proposals which contribute to addressing these challenges.
References
اولا: المصادر باللغة العربية
1- حكومة اقليم كوردستان العراق ، وزارة التخطيط ، خطة التنمية لاقليم كوردستان للسنوات 2015- 2019 ، اربيل .
2-حكومة اقليم كوردستان العراق،هيئة الاستثمار، قسم الدراسات والمعلومات، مديرية المعلومات ، قائمة المشاريع المجازة .
3- الجبوري ، عبد الرزاق احمد حسين ، 2008 ، تحليل اتجاهات الاستثمار الاجنبي المباشر وقياس اثره في بعض المتغيرات الاقتصادية الكلية في بلدان عربية مختارة للمدة 1990 – 2005 ، اطروحة دكنوراة ، كلية الادارة والاقتصاد ، جامعة بغداد .
4- زكري ، عبد اللطيف شهاب ، وحسن ، تغريد سعيد ، 2014 ،الاستثمار الاجنبي المباشر في القطاع السياحي دراسة عن اقليم كوردستان العراق ، مجلة كلية بغداد للعلوم الاقتصادية الجامعة ، العدد 41 .
5- سلمان ،احمد هادي ، 2009 ، الاستثمار الاجنبي المباشر واثره على الميزان التجاري الصيني ، المجلة العراقية للعلوم الاقتصادية ، السنة السابعة ، العدد الحادي والعشرين ، بغداد .
6-السعود، عنبرة بنت خميس بن بلال ، 2010، دور الموارد التراثية في زيادة حجم الحركة السياحية – دراسة الحالة في محافظة الاحساء،مجلة جامعة الملك سعود للسياحة والاثار، مجلد 22 (1)، الرياض .
7-صندوق النقد الدولي ، 2008 ، دليل ميزان المدفوعات ، الطبعة السادسة.
8- عباس, صلاح , 2005 ، العولمة وأثارها في الفكر المالي والنقدي, مؤسسة شباب الجامعة, مصر .
9- عبد ، محمد ، 2005 ، الاستثمار الاجنبي المباشر في الدول الاسلامية في ضوء الاقتصاد الاسلامي ، دار النفائس للنشر والتوزيع ، الاردن .
10-عبد الغفار ، هناء ، 2002، الاستثمار الاجنبي المباشر والتجارة الدولية – الصين نموذجا ، بيت الحكمة ، بغداد .
11-عبد القادر ، هناء و صلاح عبد الحسين ، 1998 ، ( الاستثمارات الأجنبية المسوغات والأخطار )، بيت الحكمة ، بغداد .
12- المرتضى ، شيماء محمد نجيب ، 2012 ، اسهام تنمية صناعة السياحة في تخفيض معدلات البطالة في اقليم كوردستان العراق ، مجلة جامعة نوروز ، العدد صفر ، دهوك .
ثانيا : المصادر باللغة الانكليزية
Kurdistan Regional government –Iraq Board of Investment, Studies and Information Department List of Licensed Projects in Kurdistan Region, 2015.
Kinda، T، "Investment Climate and FDI in Developing Countries: Firm-Level Evidence"، World Development، Vol. 38، No. 4, 2010.
UNCTAD, Foreign direct investment and development , series on Issues in international Agreements ( IIA , paper – series ) Geneva , Dec, 1988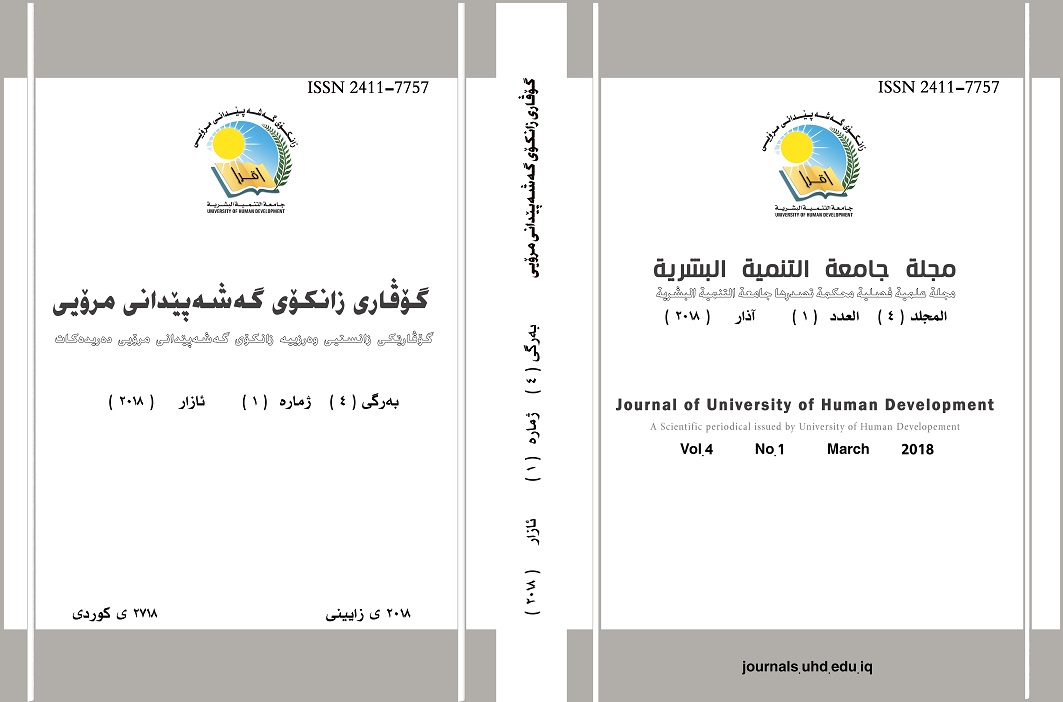 How to Cite
Mohammed, A. H. (2018). Foreign Direct Investment and its Impact on Development of the Tourism Sector in Kurdistan Region – Iraq. Journal of University of Human Development, 4(1), 80–89. https://doi.org/10.21928/juhd.v4n1y2018.pp80-89