The legal rooting of aut dedere principle in universal crimes
Keywords:
The duty to prosecute, the duty to investigate international crimes, the customary basis of the principle of the duty to prosecute, the treaty basis for litigation
Abstract
in this research we are going to elaborate the legal frame of the principle of prosecute and investigate  core crimes as an obligation in international law .due to the fact that this principle is now the subject of the particular attention .as well as it was adopted as a rule in numerous treaties .and there is a crucial debate concerning the nature of this principle in international customary law . accordingly by elucidation and clarification of this principle and its definition we will examine its application in the Iraqi legal system as a pathway to universalism in criminalization process .thus we will clarify in the first part  the principle and its source also the philosophical aspect in addition to the legal basis in bilateral conventions .   the second part of the article will  offers some controversial issue with respect to the customary  nature of the principle .at least many suggestions are founded upon severla elements of this principle .             
References
أولاً/ المصادر باللغة العربية
القضاة جهاد ،( 2010) درجات التقاضي وإجراءاتها في المحكمة الجنائية الدولية، الطبعة الأولى، دار وائل للنشر، عمان
قشطة نزار حمدي قشطة(2014)، مبدأ الإختصاص الجنائي العالمي في نظام العدالة الدولية بين النظرية والتطبيق، مجلة الجامعة الإسلامية للدراسات، المجلد الثاني.
الهيتي، نعمان عطاالله محمود (2012)، مبدأ الولاية القضائية العالمية ونطاق تطبيقه، مجلة جامعة الأنبار للعلوم القانونية والسياسية، العدد السادس،
محمود،. ضاري خليل ( 2005) ، العلاقة بين الإختصاص القضائي الجنائي الدولي والإختصاص القضائي الجنائي الوطني بشأن الجرائم الدولية، مجلة الحقوق، العدد الثاني، المجلد الثاني
محمود،. ضاري خليل (2016) ،، واجب القاضي الوطني في تطبيق إتفاقيات حقوق الإنسان القاضي جمال محمد مصطفى نموذجاً، مجلة جامعة التنمية البشرية، العدد 3، المجلد الأول.
عبو ،عبد الله علي، علي وعدي سليمان،(2011)، ، الجرائم الدولية وضرورة إدراجها في قانون العقوبات العراقي، مجلة جامعة دهوك، المجلد 14، العدد 2.
الزبيدي، زهير (1980) ، الإختصاص الجنائي للدولة في القانون الدولي- الجريمة ذات العنصر الأجنبي، الطبعة الأولى، جامعة بغداد، العراق،
البصيصي . صلاح جبير(2011) ، التشريعات الوطنية للقانون الدولي الإنساني في العراق، مجلة جامعة دهوك, العدد2، المجلد14،
رمضان . ابراهيم السيد أحمد (2017)، مبدأ الإختصاص القضائي العالمي في القانون الدولي الجنائي، مجلة مصر المعاصرة، العدد 526ِ، السنة 108، القاهرة،
الصاوي محمد ، أحكام القانون الدولي المتعلقة بمكافحة الجرائم ذات الطبيعة الدولية، دار المطبوعات الجامعية، الإسكندرية، بدون سنة طبع،
الشواني نوزاد أحمد ياسين (2012)، الإختصاص القضائي في جريمة الإبادة الجماعية، دراسة تحليلية في ضوء أحكام المحاكم الجنائية الوطنية والدولية، الطبعةالأولى، المؤسسة الحديثة للكتاب، لبنان،
محمد جاسم محمد(2019) المفهوم القانوني لجريمة الإختفاء القسري في القانون الدولي الإنساني، مجلة الجامعة العراقية، العدد 1، المجلد 43،
فضيل . أحمد تقي (2012)، جريمة الإختفاء القسري وفقاً للنظام الأساسي للمحكمة الجنائية الدولية، مجلة واسط للعلوم الإنسانية، العدد (20) المجلد (8)،
الخلفي . عبد الرحمن (2015)، تطبيق المعاهدات الإنسانية في الدساتير والقوانين الجزائية الداخلية، مجلة الحقوق والعلوم السياسية، العدد 3،
هشام . فريجة محمد (2018)، تطور تقنين الجرائم ضد الإنسانية، دارسة في مفهوم وأركان الجريمة ضد الإنسانية، مجلة كلية القانون الكويتية العالمية، العدد 1، السنة السادسة، العدد التسلسلي 21،
الاكيابي سلوى يوسف ، مفهوم الجرائم ضد الإنسانية بين نظام روما الأساسي والمواثيق الدولية، مجلة الحقوق، العدد الرابع، السنة السابعة والثلاثون، 2012.

ثانياً المصادر باللغة الانكليزية
A- Books and articles

Wagner , Andreas(2011) ((Francisco de Vitoria and Alberto Gentili on the legal characteristics of global commonwealth )), Oxford journal of legal studies , Vol 31, No 3 .
Bassiouni M.Cherif , (2014 ) ((Introduction to International Criminal Law: Second Revised Edition, IDC Publishers and Martinus Nijhoff Publishers, Leiden, Boston
Vander Wilt, Herman (2011) (( states obligations to investigate and prosecute perpetrators of international crimes , the perspectives of the European court of human rights )) in the international criminal court and complementarily from theory to practice, edited by Carsten Stahn and Mohamed M.ELZiedy Cambridge , Cambridge university press .
Freestone D,( 1998) , (( International cooperation against terrorism and the development international law principles of jurisdiction in : Haggins R. flory M.eds terrorism and international law )) Rutledge London.
Soler, Christopher (((2019) The global prosecution of core crimes under international law )),Springer ,Berlin .
Berster , C.J Toms and .Schiffbauer L.(2014) , (( convention on the prevention and punishment of the crime of genocide : A commentary )) Verlag C.H .Beck /Hart / Nomos
Luban, David (2015) (( Arendt on the crime of the crimes )) International journal of jurisprudence and philosophy of law . Vol 28. No 3 .
Hieramente M. (2011)(( The Myth of international crimes ,Dialectics and international law)) GJIL , vol 3 No 2
Disarsina Jacopo Roberti,(2018) Transitional Justice and a states Response to Mass Atrocity, Reassessing the Obligation to investigate and Prosecute, T.M.C. Asser Press, Springer, The Hague,
Cohen , Amichai, Shany ,Yuval, (2012)(( beyond the grave breaches regime: The duty to investigate alleged violations of international law governing armed conflicts, The Hebrew University of Jerusalem, international law forum, 2012, Research papers No. 2.
Fohr A, Seibert (2009) "Prosecuting serious human right violations," oxford university press, oxford, .
Meron T.,(1991 )(( Human rights and Humanitarian norms as customary law )) Oxford Oxford university press ,
Meron T(1989) ''Human rights and humanitarian norms as customary Law'', Clarendon press, oxford, 1989,

Joyner Daniel H., "Normative Model for the integration of customary international law into United States Law," Duke Journal of comparative international law, vol. 11
Werle,Gerhard ( 2010) ( The principles of international criminal law)), Oxford university press , 2nd edition .
( )Cassese , Antonio (2011) (Oxford companion to international criminal justice )), Oxford university press ,
Herman Vandrer Wilt , (( universal jurisdiction under attack : an assessment of African misgiving towards international criminal justice)) , journal of international criminal justice ,Vol 9 No 5 .
Tomuschat, C. (2015) (( The duty to prosecute international crimes committed by individuals ))in Annelen Micus ((The Inter American Human rights system as a safeguard for justice in national transitionsm from amnesty law to accountability in Argentina , Chile and Peru)),Brill.Nijhoof, London,
Arriaza, Roht (1995) ''Non treaty sources of the obligation to investigate and prosecute'' in Roht Arriaza, ''Impunity and human rights in international and practice'', Oxford University press,

Van Steenberghe (2011) , (( the obligation to extradite or prosecute :clarifying its nature)), Oxford journal of international criminal justice , vol 11.
B- Cases and reports :
Question relating to the obligation to prosecute or extradite (Belgium v. Senegal judgment 2012 ICJ report
Tibi v. Ecuador . Judgment of Sep 7 2007 case No 114 , Miquel Castro -castor prison v. Peru judgment of 25, Nov 2006.
Application of the genocide convention (Bosnia Herzegovina v. Serbia Montenegro ) 2007 ICJ Judgment
ECTHR Decision :Palic v. Bosnia and Herzegovina .Application No 4704/04 CECTHR , 15 Feb 2011

Prosecutor v. Ayyash , (( interlocutory decision on the applicable law , appeals chamber Case No STL- 01/T (Feb 16.2011.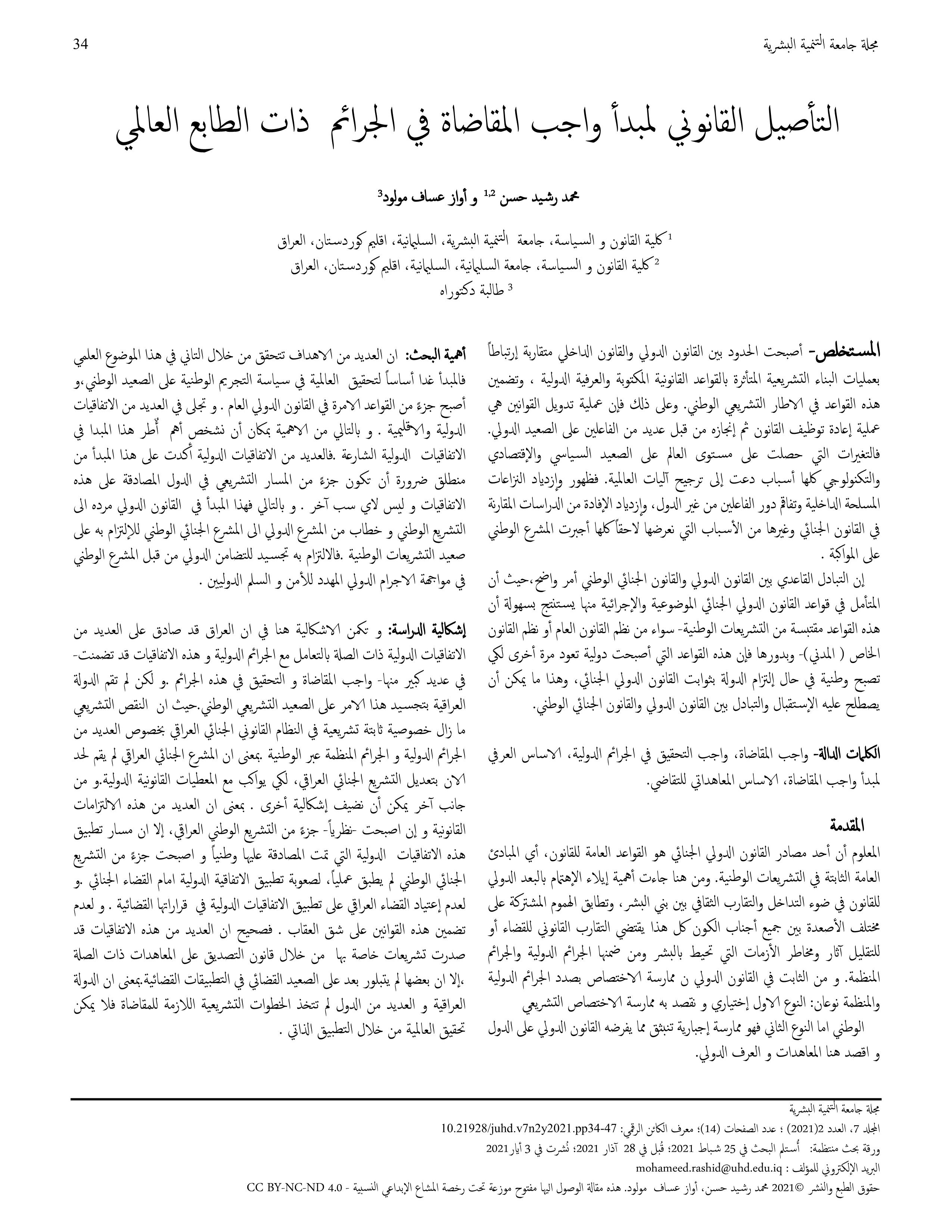 License
Copyright (c) 2021 Mohammed Rashid Hassan Al jaff, Awaz Asaf Mawlood
This work is licensed under a Creative Commons Attribution-NonCommercial-NoDerivatives 4.0 International License.