"HOPING AGAINST HOPE": A MARXIST STUDY OF CAPITALIST FATALISM IN EUGENE O'NEILL'S WARNINGS
Keywords:
Class conflict, Capitalism, Disaster, Fatalism, Marxism, O'Neill, Warnings
Abstract
'"Hoping against Hope": A Marxist Study of Capitalist Fatalism in Eugene O'Neill's Warnings' presents the problem of a lower-class family, the Knapps, who suffer under the fatalistic capitalist system. The Knapps, as a part of the society, and the society as a whole, become potential victims of the capitalists and the bourgeoisie who work only for their own interests even if on the account of the poor. In such a socio-economic system, human beings are viewed as productive machines and possible consumers. Once they become old or disabled, they will be dismissed and replaced by younger ones. The paper, therefore, aims to analyse and interpret the above-mentioned themes in O'Neill's Warnings in light of Marxist criticism and class conflicts between the proletariat and the bourgeoisie. It is concluded that as long as capitalism is solely based on material benefits and is negligent of humanitarian concerns, disasters befalling the proletariat in particular and the whole society in general will be an inevitable fate. Witnessing the calamities that inflict the lower-class people in the play could alert readers/audience, including the capitalists and the bourgeoisie, to the detrimental consequences of embracing a purely materialistic worldview.
References
Aydın, D. G. (2010). Questioning the Individual Under Capitalism: Alienation and the Iron Cage. Review of Public Administration, Volume 43 Issue 2.
Bloom, Harold. (2007). Bloom's Modern Critical Views: Eugene O'Neill. New York: Bloom's Literary Criticism
Engels, Friedrich. (1977). Principles of Communism. Foreign Languages Press.
Ferber, Michael. (2007). A Dictionary of Literary Symbols. Cambridge.
Fogel, Robert William. (1964). Railroads and American Economic Growth: Essays in Econometric History. Baltimore: Johns Hopkins Press.
Helgeson, Jeffrey. (2016). American Labor and Working-Class History, 1900–1945. Oxford Research Encyclopedia of American History.
Hodges, Donald Clark. (1959). The Role of Classes in Historical Materialism. Science & Society, PP. 16-26.
Koddenbrock, Kai. (2017). What Money Does: An Inquiry into the Backbone of Capitalist Political Economy. No. 17/9. MPIfG Discussion Paper.
Marx, Karl. (1904). A Contribution to the Critique of Political Economy. Charles H. Kerr and Company.
Marx, Karl. (1891). Wage-labor and Capital. Translated, Frederick Engels. DODO Press.
Marx, Karl, Ernest Mandel, and Ben Fowkes. (1976). Capital: A Critique of Political Economy. Vol. 1. Classic Penguin.
O'Neill, Eugene G. (1914). Thirst and Other One Act Plays. Gorham Press.
Olderr, Steven. (2012). Symbolism: A Comprehensive Dictionary. McFarland & Company, Publishers.
Phillipson, Chris. (1982). Capitalism and the Construction of Old Age. Macmillan International Higher Education.
Thompson, L. A. (1979). The Development of Marx's Concept of Alienation: An Introduction. Mid-American Review of Sociology, 23-38.
Thorpe, Holly. (2011). Snowboarding Bodies in Theory and Practice. Palgrave.
Tyler, Imogen. (2015). Classificatory struggles: Class, Culture and Inequality in Neoliberal Times. The Sociological Review 63.2, PP. 493-511.
Tunstall, R. (April 2013). The Links Between Housing and Poverty: An Evidence Review. Joseph Rowntree Foundation.https://www.york.ac.uk/media/chp/documents/2013/poverty-housing-options-full.pdf
Wolff, E. N. (2005). Computerization and Rising Unemployment Duration. Journals, Palgrave Macmillan, 31(4), 507–536. Retrieved: https://www.jstor.org/stable/40326360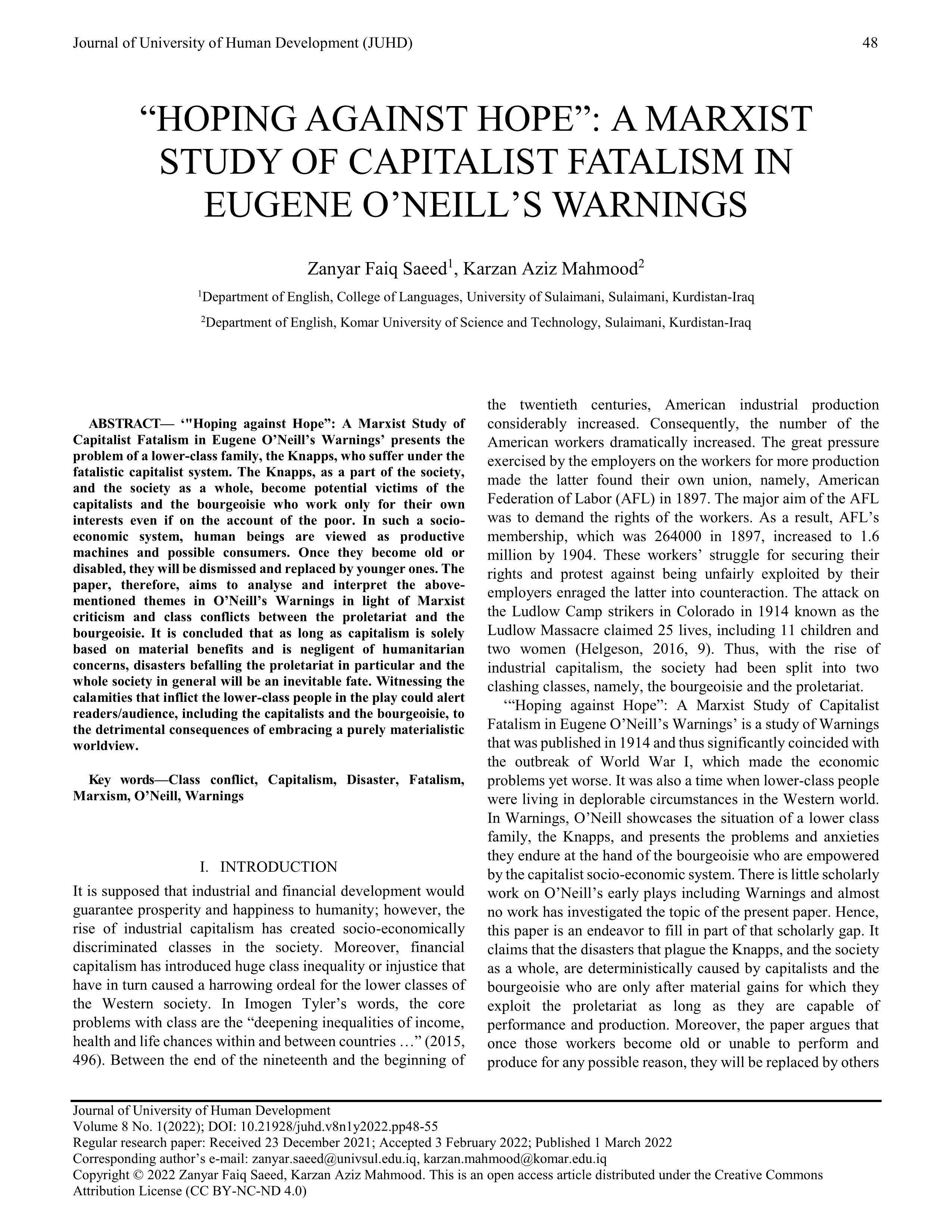 Downloads
License
Copyright (c) 2022 Zanyar Faiq Saeed, Karzan Aziz Mahmood
This work is licensed under a Creative Commons Attribution-NonCommercial-NoDerivatives 4.0 International License.