Irregular forces in the Royal covenant: And its impact on Iraqi societal security
Keywords:
Irregular forces, royal covenant, community security
Abstract
Irregular forces in Iraq were not new; However, Iraq knew this type of force before the establishment of the Iraqi state in 1920, when the British forces, in their invasion of Iraq in 1914, used this type of force; In order to facilitate the task of its occupation of Iraq; and then assisting them in gathering information and reconnaissance; As well as trying to establish security in Iraq; Especially after the Iraqis launched their revolution against the British occupation, which is known as the Great Iraqi Revolution in 1920.
These forces constituted a clear challenge to the Iraqi societal security at various political, cultural and even security levels by challenging and confronting the formation and expansion of the Iraqi army, as well as standing by the occupier against the national movements; Especially in the thirties and forties of the twentieth century.
This type of force was not limited to the British forces, but some Iraqi politicians during the royal era sought to establish similar forces to support the continuation of the political system. As happened in the experience of the fatwa during the era of Saleh Jabr.
It is noticeable that these forces, because of their negative repercussions on the Iraqi societal security internally and externally, have ended these experiences of the forces that formed them, whether the British or even the national government; Which indicates the failure to benefit from these experiences.
References
اولا: الوثائق
- نص المعاهدة العراقية –البريطانية في 10 تشرين الأول 1922
ثانيا الكتب العربية
احمد سوسة، (2001)، ملامح من التاريخ القديم ،المؤسسة العربية للدراسات والنشر،بيروت،
ادموندز،(2012) كورد وترك وعرب، ترجمة جرجيس فتح الله، دار اراس للطباعة اربيل.
حنا بطاطو، (1995)، العراق الطبقات الاجتماعية والحركات الثورية من العهد العثماني حتى قيام الجمهورية،الكتاب الأول، ترجمة: عفيف الرزاز،مؤسسة الابحاث العربية،بيروت،ط2
الخطاب، رجاء حسين حسني ، (1979)، تاسيس الجيش العراقي وتطور دوره السياسي من 1921-1941 جامعة بغداد،بغداد.
الحيدري، رياض رشيد ناجي ، (1977)، الاثوريين في العراق 1918-1936،مطبعة جبلاوي،القاهره.
ليام اندرسون وغاريث ستانسفيلد، (2005)، عراق المستقبل ،ترجمة رمزي بدر،دار الوراق،لندن.
ليورا لو كيتز، (2004)، العراق والبحث عن الهوية الوطنية،ترجمة دلشاد ميران،دار اراس للطباعة والنشر،اربيل.
كلبرث براوان) 1932 (، قوات الليفي العراقية 1951-1932،المعهد الملكي البرطاني،لندن.
الحسني عبد الرزاق ، (2000)، تاريخ الوزارات العراقية،ج1،دار الشؤون الثقافية العامة ،بغداد،ط7،
الناصري عقيل ،الجيش والسلطة في العراق 1921-1958،دار الحصاد للنشر والتوزيع، دمشق.
علاء جاسم محمد، (1990)، الملك فيصل الاول:حياته ودوره السياسي،مكتبة اليقضة العربية،بغداد.
نجدت فتحي صفوت، (2016)، صالح جبر سيرة سياسية،دار الساقي، بيروت.
مس بيل، (1971)، فصول من تاريخ العراق القريب،ترجمة جعفر الخياط،بلا، بيروت.
مجموعة مولفين، (1983)، العراق في التاريخ،بلا بغداد.
ثالثا: البحوث والدراسات
- عبد الله ،عمار يوسف ، (2007)، بريطانيا والاثورين 1918- 1933،كلية التربية جامعة كركوك،العدد1 ،المجلد 14
-ياسين طه ياسين، (2012)، قوات الليفي :دراسة في الاستراتيجية البريطانية في العراق 1915-1920،مجلة اداب البصرة،العدد60 .
المراجع باللغة الانكليزية
A.Wilson, (1933). Mesopotamia 1917-1920,Aclash of loyalities, Oxford.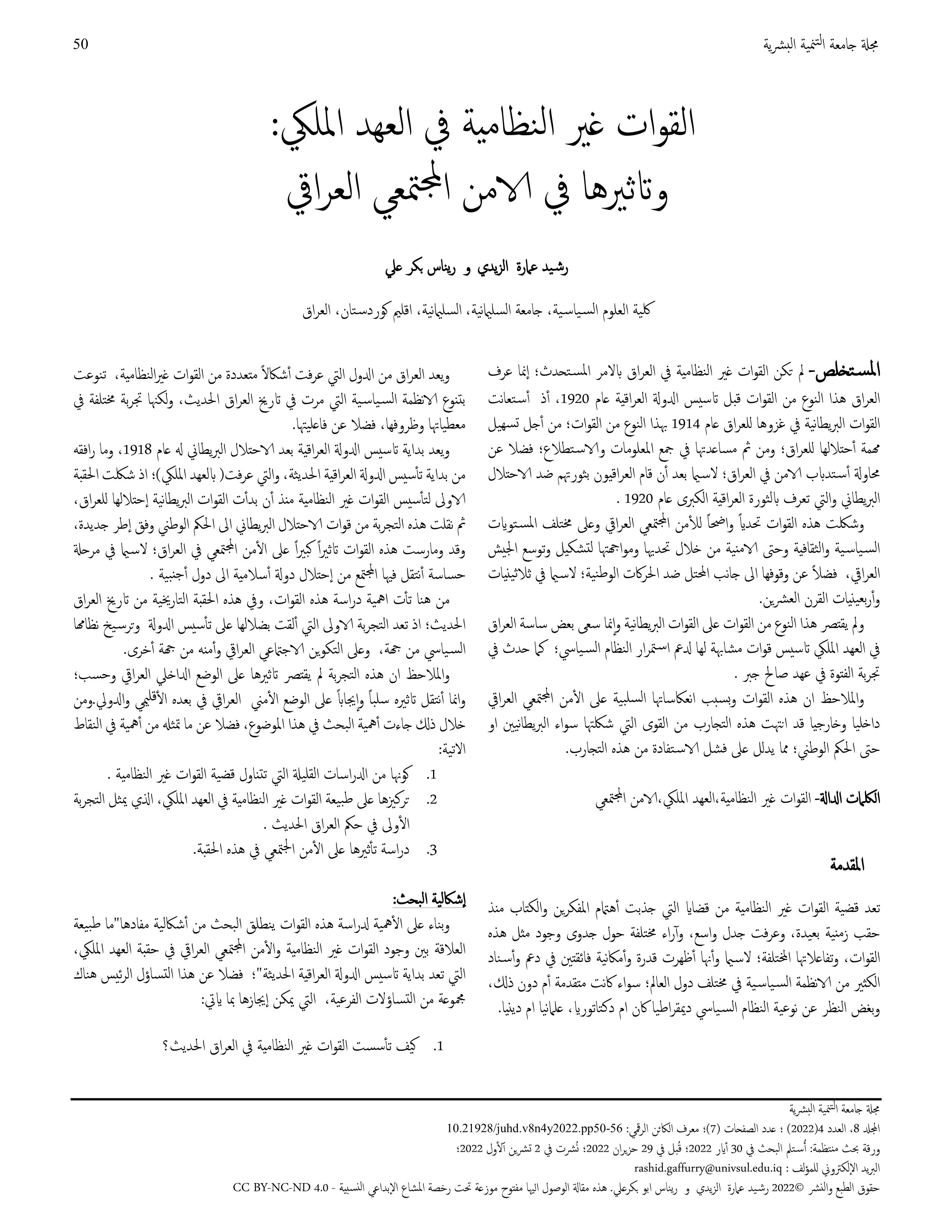 License
Copyright (c) 2022 Rashid Emara Yas Gaffurry, Renas Abubakir Ali
This work is licensed under a Creative Commons Attribution-NonCommercial-NoDerivatives 4.0 International License.