The Structure of Satirical narratives in "Rashtai Marwari and Risalat Dalkosha"
Keywords:
Satirical narratives, idiom, social criticism, taboo
Abstract
            This paper entitled (The Satirical narratives Structure in "Rashtai Marwari and Risalat Dalkosha" is a comparative study between the book (Rashtai Marwari) by (Alaa Al-Din Sajjadi) and the tales (Risala Delgosha) by (Obeid Zakani), which is study Kurdish and Persian tales. The research is divide  in two chapters, the first chapter discuss  the definition of the two books and their scientific values ​​with  their sources, then we identified the stories that were taken by Alaa Al-Din Al-Sajjadi from Obeid Zakani's book, Risalat Dalkusha, which includes (91) stories, while in the second chapter we touched on a number of branches  of Satire narration  structure of both books (character, event, dialogue, contents), and we mainly emphasized the  taboos components of comedy, religious and sexual .in conclusion we reviewed the results of the research, with a list of sources and references.
References
زمانی كوردی
ئەحمەد، گۆران عەبدوڵا، ٢٠١٥، تەنزەئەدەبییەکان لە ڕۆژنامەنووسی کوردیدا- باشوری کوردستان بە نمووونەی گۆڤارەکانی (سیخوڕمە، مەلا مەشهورە، گەپ)، ماستەرنامە، زانکۆی سلێمانى.
ئەڵوەنى، نەجم، ٢٠٠٧، زنجیرە کتێبی کەلەپووری، دەزگای موزیک و کەلەپووری کورد، هەولێر.
پیرەمێرد،١٩٧٠، گاڵتەوگەپی پیرەمێرد، چاپخانەى کارمەرانی، سلێمانى.
حسین، جەبار ئەحمەد، ٢٠١٢. بینای ساتیرا لە کورتەچیرکی کوردیدا (کوردستانى عیراق ١٩٧٠-١٩٩٠)، بڵاوکراوەی ئەکادیمیای کوردی، ژمارە ١٤٠، هەولێر.
خاڵ، شێخ محەمەد، ٢٠٠٧، لە سەرگوزەشتەکانی ژیان، پرۆژەى تیشک نجیرە ١٤، سلێمانى.
خەزنەدار، مارف، ٢٠٠٦، مێژووی ئەدەبی کوردی، بەرگی حەوت، دەزگای ئاراس، چاپی یەکەم، هەولێر.
ڕەسول، عیزەدین مستەفا، ١٩٧٠، ئەدەبی فۆلکلۆری کوردی، چاپخانەى دارلجاحز، بەغداد.
سەجادی، عەلائەدین، ٢٠١٥، ڕشتەى مرواری، چاپخانەى پەنجەرە، (دەورەى هەشت بەرگی)
شڵماشی، محەمەد، ٢٠٠٠، خەرمان لۆغە، سوید.
کەریم، تۆفیق، ٢٠١٦، کاریگەری ئیسلام لەسەر کلتوری کورد(ئەدەبی گاڵتەوگەپ)، لە بڵاوكراوەكانی ناوەندی هزری و ڕۆشنبیریی خاڵ، چاپی یەكەم .
زمانی فارسی:
اتابکی، پرویز، (سال؟)، کلیات عبید زاکانی، انتشار کتابفروشی زوار، تهران- شاه اباد.
اسکولز، رابرت١٣٨٣، درامدی بر ساختارگرایی در ادبیات، ت. فرزانە طاهری، موسسە انتشارات نگاه، چاپ دوم.
اشتیانی، عباس اقبال ١٣٨٤، کلیات عبید زاکانی، موسسە چاپ و انتشارات پیک فرهنگ، چاپ دوم.
اصلانی، محمد رضا، ١٣٨٥ فرهنگ واژگان و اصطلاحات طنز، انتشارات کاروان، چاپ اول.
امیدسالار، محمود،١٣٦٦، ملاحظاتی درباره لطائف عبید زاکانی در رساله زاکانی، ایران نامە، شمارە ٢٢.
پلارد، ارتور طنز، ١٣٨٦، ت.سعید سعیدپور، نشر مرکز، چاپ چهارم.
داد، سیما 1385، فرهنگ اصطلاحات ادبى، چاپ سوم ، انتشارات مروارید، تهران.
سبزیات پور، وحید: ١٣٩٢، حدیث دارابی، سرچشمە حکایات عبید زاکانی در رسالە زاکانی، فصلنامە اجبیات داستانی، دانشکە ادبیات علوم انسانی دانشگاه رازی کرمانشاه، سال اول، شمارە ٣.
شریفی، محمد ١٣٩٦، فرهنگ ادبیات فارسی، فرهنگ نشر نو، تهران.
شمیسا، سرویس ١٣٨١، شاهدبازی در ادبیات فارسی، انتشارات فیردوس، تهران.
شمیسا، سرویس١٣٩٤ ، انواع ادبی، چاپ چنجم، نشر میترا، بهار.
محجوب، محمد جعفر،1373 بررسی اثار عبید زاکانی(٢) ارزیابی لطایف عبید، ایران شناسی سال ششم، شماره 24.
میرصادیقی، جمال –میمنت میرصادقی ١٣٨٨، واژەنامە هنر داستان نویسی، کتاب مهنار، چاپ دوم.
زمانی عەرەبی:
فتحی، ابراهیم: 1986، معجم المصطلحات الأدبیة، التعاضدیة العالمیة للطباعە و النشر، التونس.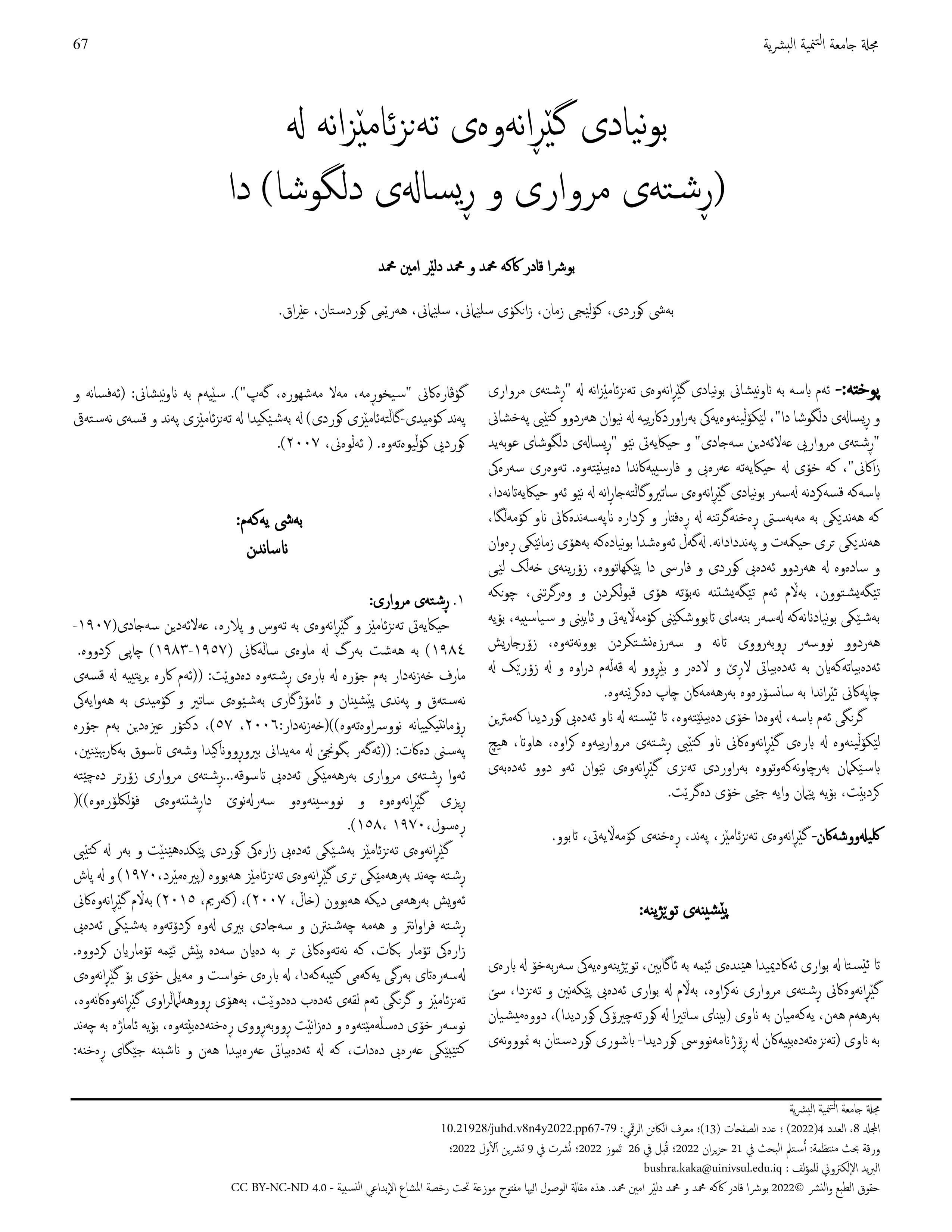 License
Copyright (c) 2022 Muhammad Dler Amin Muhammad, Bushra Qadir Kaka Muhammad kasnazani
This work is licensed under a Creative Commons Attribution-NonCommercial-NoDerivatives 4.0 International License.