The Role of Media's Security upon Counter Terrorism Threat in Kurdistan Region
Survey Research
Yohan Othman Hama

Department of Media, College of Humanities, University of Sulaimaniyah, Kurdistan Region, Iraq

Ibrahim Saeed Fathulla

Department of Media, College of Humanities, University of Sulaimaniyah, Kurdistan Region, Iraq
Abstract
The objective of this research is to detect the role of Asayesh (Security directorate)'s media on public awareness upon counter-terrorism issues in Kurdistan region. A range of Kurdistan region's university academic members have been taken as survey sample.
Through a questionnaire form the research which sought the opinions of a representative sample of academic staff at formal Universities in Kurdistan region as they considers elite of society, and their opinions and evaluations matter , and have to be taken for consideration. The Respondents were invited to complete the questionnaire to indicate the cons and pros of Asayesh (security) directorate's media in Kurdistan region, in particular upon public awareness upon terror and security issues.
The research concludes that academic members of Kurdistan region universities still depend on television as media platform to be aware of Asayesh's public announcements on counter terrorism issues , they also emphasize that their messages affects their perceptions  towards issues of counter-terrorism. 
References
سەرچاوەکان

سەرچاوەی عەرەبی:
حسن عماد مكاوي و عاطف عدلي العبد.(2007). نظريات الإعلام، القاهرة.
حسين عبد االله عماد.(1991). إدارة الأمن في المدن الكبرى، الرياض، المرآز العربي للدراسات الأمنية والتدريب.
ساسي فياض الكيسي. (2008). رفع المسؤلية الجنائية في أسباب الإباحة، بيروت، دار الكتب العلمية.
عبدالرحمن بن محمد ابن الحمراء القحطاني. (2012) . دور الاعلام في مكافحة الارهاب، جامعة نايف العربية للعلوم الامنية، الرياض.
مازن إسماعيل الرمضاني.(1981). مقدمة في الجوانب النظرية لمفهوم الأمن الخارجي، مجلة الأمن والجماهير، السنة الثانية العدد 04، العراق، تموز-يوليو.
مدحت أبوبكر محمد سليمان.(2017). الدور الثقافي للإعلام الأمني، كلية دراسات العليا بأكاديمية الشرطة المصرية، ورد هذا بحث للدورية، الإمارت.
نور علي إبراهيم.(2013). دور مؤسسات الضبط الاجتماعي في الوقاية من الفساد، مجلة لنزاهة و الشفافية للبحوث والدراسات ، بغداد، العدد الخامس.

سەرچاوەی کوردی:
ئیبراھیم سەعید.(2018). شێوزای بەگەڕخستنی میدیا لە روبەرووبونەوەی مەترسیەکانی تیرۆردا، گۆڤاری جۆرناڵ، سلێمانی، ژمارە 20، کانونی دووەمی 2018.
سەرچاوەی ئینگلیزی:
Acquisti, Alessandro, and Gross, Ralph. (2009). Predicting Social Security numbers from public data, Proceedings of the National Academy of Sciences, 106 (27).
Garner, Bryan A. (2004). Black s Law Dictionary, West, A Thomson Business, USA, 8th edition.
Matthew Loveless. (2008). Media Dependency: Mass Media as Sources of Information in the Democratizing Countries of Central and Eastern Europe ,Center for Research and Social Progress (CeRSP), Ph.D. Political Science.
Melvin L. Defleur & Sandra Ball Rokeach. (1982). Theories of Mass Communication, 4th ed, (New York:Longman.
Shoemaker, P, Eichholz, M. Kim, E, Wrigley. B. (2001).Individual and Routine Forces in Gate Keeping , J & Mc Quarterly , Vol , 78 , No 2.

توێژینەوەی زانستی
ذياب المؤمني عطاف، الدور الاجتماعي للشرطة وأثره في الوقاية من الجريمة والانحراف في الأردن، رسالة ماجستير غير منشورة، قسم الاجتماع، آلية الآداب، الجامعة الأردنية، عام، 1996.

فاطمة نفيدسة، العلاقة بين النسق القيمي و الدور الاجتماعي لدى المرأة الطارقية، رسالة ماجستير، الجزائر، جامعة قاصدي مرتاح و مرقلة، کلية الاداب و العلوم الانسانية، قسم علم النفس و العلوم التربية ، 2007.

سەرچاوەی ئەنتەرنێت:
WOLFERS (Arnold)، "National Security as an Ambiguous Symbol"، Political Science Quarterly, Vol. 67, n: 4 (Dec, 1952)، The Academy of political science, in ( http://www.jstor.org/stable/2145138), accessed: 05/05/2019 19:57.
Taha Najim, http://drtahanegm.blogspot.com/2011/11/blog-post_6684.html: in 7/8/2016
https://www.kurdistan-parliament.org/files/articles/101207113257.pdf, 11/2/2020, 3:37 pm.

چاوپێکەوتن:
رزگار حمەرەحیم حمە کەریم، ، لێپرسراوی بەشی راگەیاندن و پەیوەندییەکان ئاسایشی سلێمانی، 10:30 بەیانی، چاوپێکەوتن، 20/11/2019.
رەوەند محمد عبدلرحمان، ووتەبێژ و بەرپرسی راگەیاندنی دژە تیرۆر، سلێمانی، 15:30 نیوەرۆ، چاوپێکەوتن، 10/10/2019.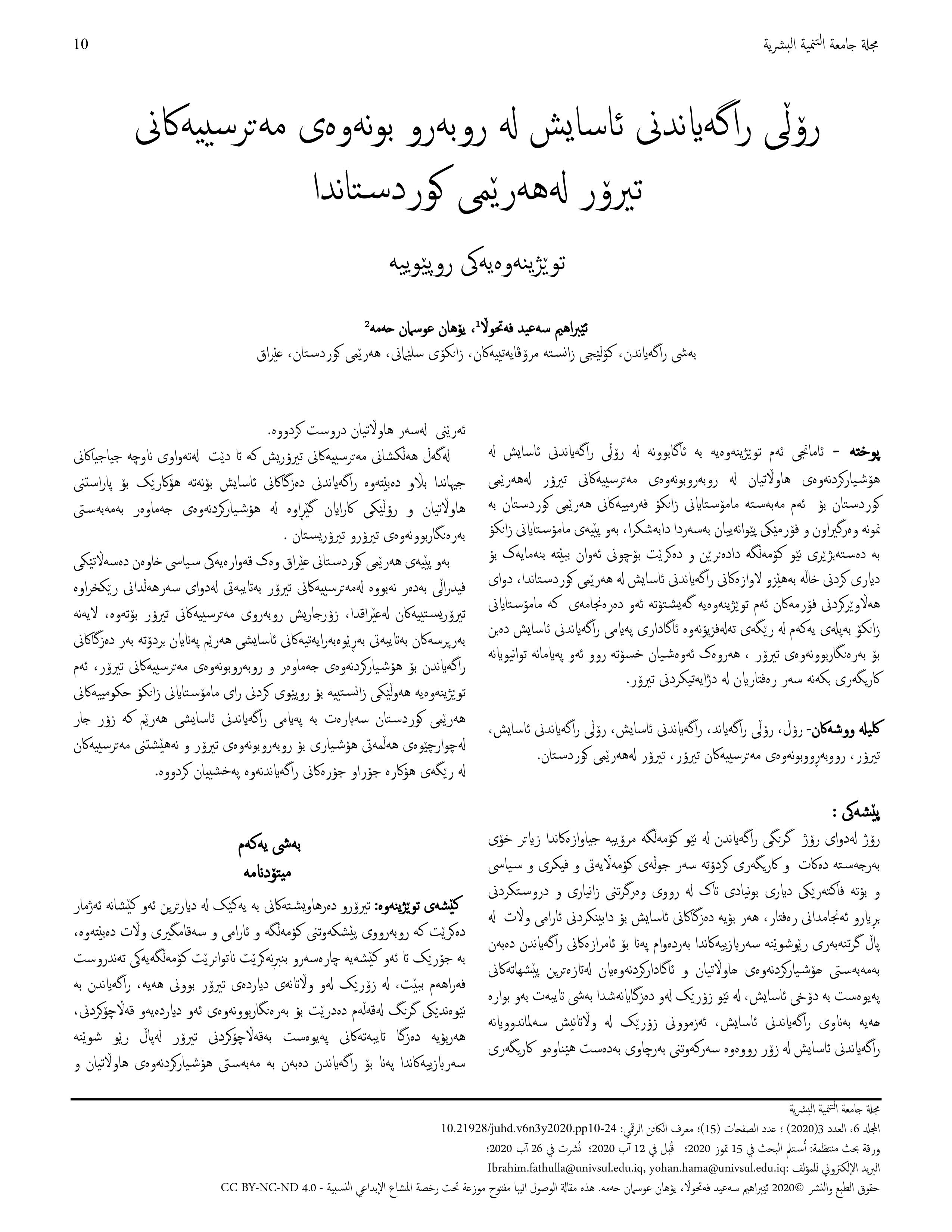 This work is licensed under a Creative Commons Attribution-NonCommercial-NoDerivatives 4.0 International License.