The Intertextuality of The Merchant of Venice in the Mansion of the Sad Birds
Keywords:
Intertextuality, Play, Novel, Character, Dialogue, Text
Abstract
Intertextuality is the connection between a text with the previous and contemporary texts. Specifically, the reader should find the connection between the texts based on his or her enlightenment. According to intertextuality, a text cannot be produced without the reflection of the earlier texts. Moreover, this study is an attempt to display the connection and likeness of Shakespeare's play, The Merchant of Venice, in Bakhtiyar Ali's novel, the Mansion of the Sad Birds. Precisely, we can see Shakespeare's play in many scenes and dialogues of Bakhtiyar's novel. Nevertheless, he has inventively made use of them to augment his novel.
References
حسێن، شنۆ محەمەد مەحمود، ٢٠١٢، دەق ئاوێزان لە شیعری نوێی كوردیدا بە نمونەی پیرەمێرد، گۆران، لەتیف هەڵمەت، چاپخانەی بینایی، سلێمانی.
عەزیز، سامان جەلال ،٢٠١٤، دەقئاوێزانی شیعری گۆران لە شیعری (هەردی، دیلان، ع.ح.ب، كامەران)دا، تێزی دكتۆرا، زانكۆی سلێمانی ، سكوڵی زمان، بەشی كوردی.
عەلی،بەختیار،٢٠٠٩، كۆشكی باڵندە غەمگینەكان،ڕۆمان، چاپخانەی كارۆ.
قادر،ئاوارە فەرەیدون ، ٢٠١١، دەقئاوێزان لە شیعرەكانی (ئەنوەر قادر محەمەد)دا،نامەی ماستەر، زانكۆی سلێمانی، سكوڵی زمان، بەشی كوردی.
بوخاتم, د.مولاي علي, 2005,مصطلحات النقد العربي السيميائي, الاشكالية و الاصول و الامتداد,اتحاد كتاب العرب, دمشق.
الزغبي, د. احمد, 1995, التناص نظريا و تطبيقا, مكتبة الكتابي،ط1 , اربد، الاردن.
عزام, محمد, 2001, النص الغائب- تجليات التناص في الشعر العربي ،منشورات اتحاد كتاب العرب،دمشق.
محبك، احمد زیاد، مفهوم التناص عند جیرار جینیت،http://www.alkalimah.net
محمد، د.اواز محمود، ٢٠١٢،التناص في شعر صلاح عبد الصبور, الطبعة الاولى، مطبعة گوڵە نێرگز،السليمانية.
المغربي، حافظ,٢٠١٠، اشكال التناص و تحولات الخطاب الشعري الماصر, ط1, الانتشار العربي.
المناصرە، عزالدین ،٢٠٠٦،علم التناص المقارن، نحو منهج عنكبوتی تفاعلی، ط١ ،جامعە فیلاد لفیا.
ناهم، د.احمد ، ٢٠٠٤،التناص في شعر الرواد ,ط1, دار الشؤون الثقافة العامة, بغداد.
وعدالله, ليديا,2005, التناص المعرفي في شعر عزالدين المناصرة, ط1,دارمجدلاوي للنشر والتوزيع,عمان, الاردن.
A.W.VERITY,1953, THE MERCHANT OF VENICE, SHAKESPEARE, CAMBRIDGE, AT THE UNIVERSITY PRESS.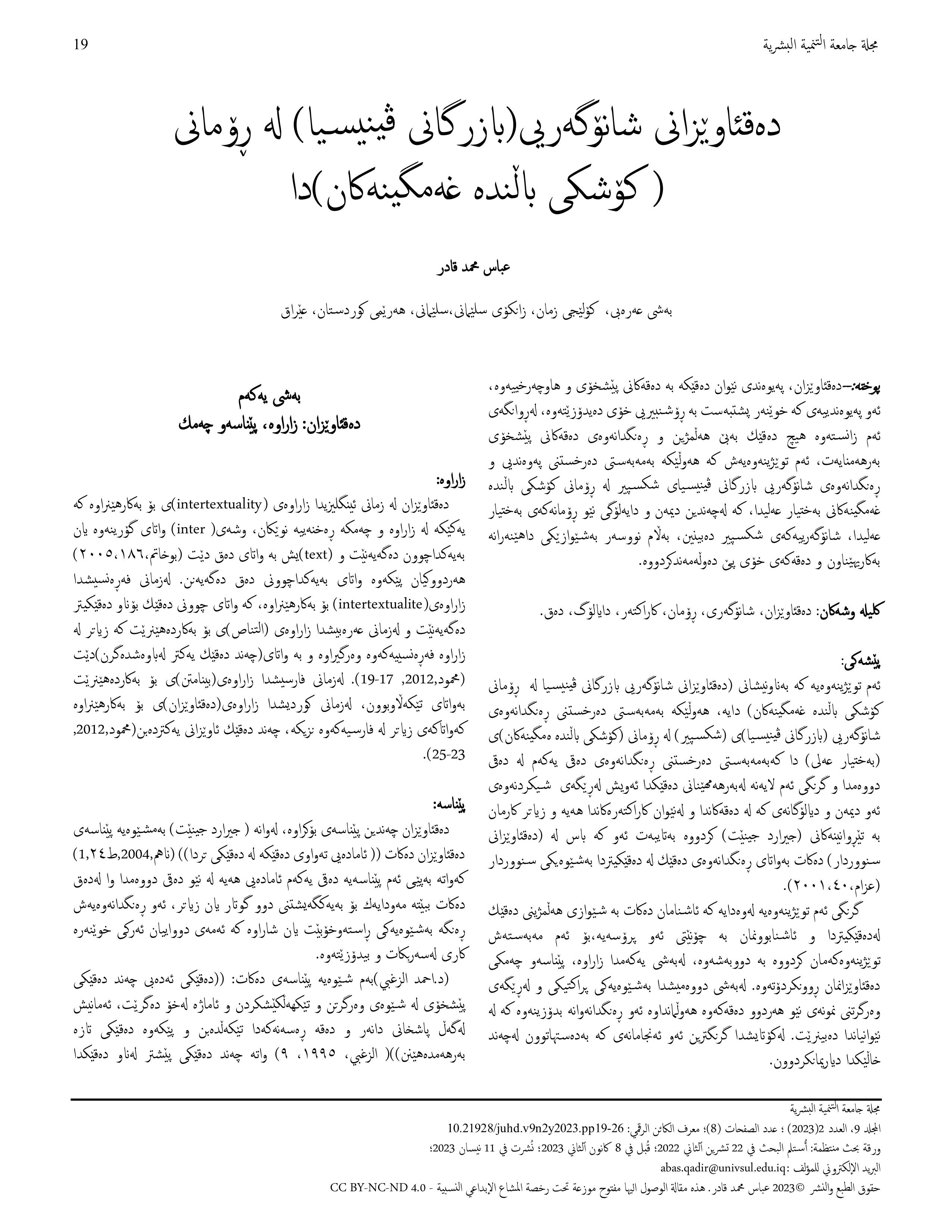 License
Copyright (c) 2023 Abbas Muhammed Qadir
This work is licensed under a Creative Commons Attribution-NonCommercial-NoDerivatives 4.0 International License.