The political situations of Adiabene during the Parthian period
Keywords:
Adiabene, Classical sources, Lycus, Capros , Helena
Abstract
Our sources of information about the kingdom of Adiabene depend on the classic writers such as (Strabo, Ptolemy, and Pliny). With the appearance of the Parthians, Adiabene was identified as a prominent and important kingdom in the Parthians Period, with its capital Arbela (modern Arbil), located between the Great and Small Zab rivers mentioned by Lykos and Kaprus, bordered by Armenia, Corduene/Gordueni (to the north). Lake Urmia (to the east), the Tigris River (to the west) and even some lands west of the Tigris, such as the city of Assyria.
Adiabene was a safe haven for the Parthian kings, especially during the reign of Isats II. The kingdom and its capital occupied a prominent place for them, as many of the bodies of the Parthian kings were buried in Arbela. Queen  of Adiabene Helena changed her religion to Judaism, followed by her sons Izats II and Monobazos II, after which the royal family moved to Jerusalem and settled there and then were buried in the Tombs of the Kings in Jerusalem. Sometimes the ruler was allowed to call himself king. For a very short period, Adiabene became a Roman kingdom when it was conquered by Trajan (98-117 AD) in 115/116 AD. Then adopting the title Adiabenicus. However, with the advent of Macrinus (217-218 AD), the conflict between the Parthian and the Ramans ended, after a treaty was concluded between the two parties.
References
لیستی سەرچاوە کوردی وعەرەبییەکان:
ابن حوقل، ابی القاسم ،(1992)، صورة‌ الارض، دار مكتبة‌ الحیاة‌، بیروت.
احمد، كؤزاد محمد، (2016)، كورتە مێژوویەکی كوردستان چاخی بەردینی کۆنەوە تا کۆتایی ساسانییەکان ،توێژینەوەیەکی بلاَونەكراوە.
باقر، طه، (1975)، " جولات اثاریة بین مواطن الاثار فی شمالي العراق"،گۆڤاری كۆڕی زانیاری كورد، به‌رگی سیًیه‌م، به‌شی یه‌كه‌م، به‌غدا.
جمیل، فۆاد، (1969)، "حدیاب اربیلا وعشتار-اربیلا"، سومر25، ج. 1و2 .
مجید، كامه‌ران محمد جلال،(2015)، ˮپێگه‌ی ئه‌دیابین وكاریگه‌ری له‌سه‌ر گۆڕانه‌ سیاسی وكلتورییه‌كانیدا له‌سه‌ده‌ی یه‌كه‌می پێش زایینه‌وه‌ تاسه‌ده‌ی حه‌وته‌می زایینی (تویژینه‌وه‌یه‌كی مێژووی سیاسی وكلتورییه‌) "، گ. زانكۆی راپه‌ڕین، به‌رگ (ژ.4).
زخا، مشیخا، (2001)، كرونولوجیا اربیل، ترجمة‌ وتحقیق: عزیز عبد الاحد نباتی، اربیل.
شریف، ابراهیم،(بدون سنه‌)، الموقع الجغرافي للعراق واثره فی تاریخه العام حتى الفتح الاسلامي، ج1، بغداد.:
شیر، ادی، تاریخ کلدو واثور،(1913)، المطبعة الكاثوليكية، مج٢، بیروت، ص. جـ.
لیستی سەرچاوە ئینگلیزییەکان:
Bennett, J., (2017), Trajan Optimus Princeps A life and Times, London.
Crevier, J.B.L., (1814), The History of The Roman Emperors From Augustus To Constantine, Vol. VII, London.
Cagnat, R., (1927), "Inscription Romaine du Sindjar au nom de Trajan"in, Syria VIII.
Cassius, D., (1914), DIO'S Roman History, with an English Translation bye Earnest Cary,Vol. VIII, London, LXIII.26.3.
Dignas, B. and W. Engelbert, (2007),Rome and Persia In Late Antiquity (Neighbours and Rivals), Cambridge Unuversity Press.
Ellebrock. U., (2021), The Parthians (The Forgotten Empire), NewYork.
Frye, R.N., (2000), The Political History Of Iran Under The sasanians, in: The Cambridge History Of Iran, Vol. (3)1, Cambridge University Press.
Grabowski, M., (2011) "Abdissares of Adiabene and the Batas-Herir," Światowit- Annual of the Institute of Archaeology of the University of Warsaw, IX (L) ,Fascicle A, Warsaw.
Herzfeld, E., (1968), The Persian Empire, Wiesbaden.
Josephus, (1965), Jewish Antiquities, XX. 54-66, Loeb Classical Library, Harvard.
Marciak, M., 2 (2011), Seleucid-Parthian Adiabene in the Light of Ancient Geographical and Ethnographical Texts, Anabasis- Studia Classica et Orientalia
Marciak, M., (2017), Sophene, Gordyene, and Adiabene (three Regna Minora Of Northern Mesopotamia Between East and West), Leiden.
Marcellinus, A., (1940), Ammianus Marcellinus , With an English Translation by John C. Rolfe, Vol.II, 23.6.20-22 (Loeb Classical Library) , Harvard University Press.
Neusner, J. , (1964), "The Conversion of Adiabene to Judaism ", Journal of Biblical literature, Vol. 83, No. 1, Brandeis University.
Ptolemy, C., (1932), The Geography, Translate and edited bye Edward Luther Stevenson, New York.
Rabin, A.,(2007), The Adiabene Narrative in the Jewish Antiquities of Josephus, D. Phil. In Oriental Studies, Wolfson College.
Sellwood, D., (1983) "Adiabene", Encyclopaedia Iranica, Vol.I, London.
Smith, W., (1854), Dictionary of Greek and Roman Geography, Vol. I, London.
Strabo, (1930), The Geography of Strabo, With an English Translation by Horace Leonard Jones,Vol. 7, XV-XV1, Harvard University Press.
Strabo, (1928), The Geography of Strabo, With an English Translation by Horace Leonard Jones,Vol. 5, X-XII, Harvard University Press.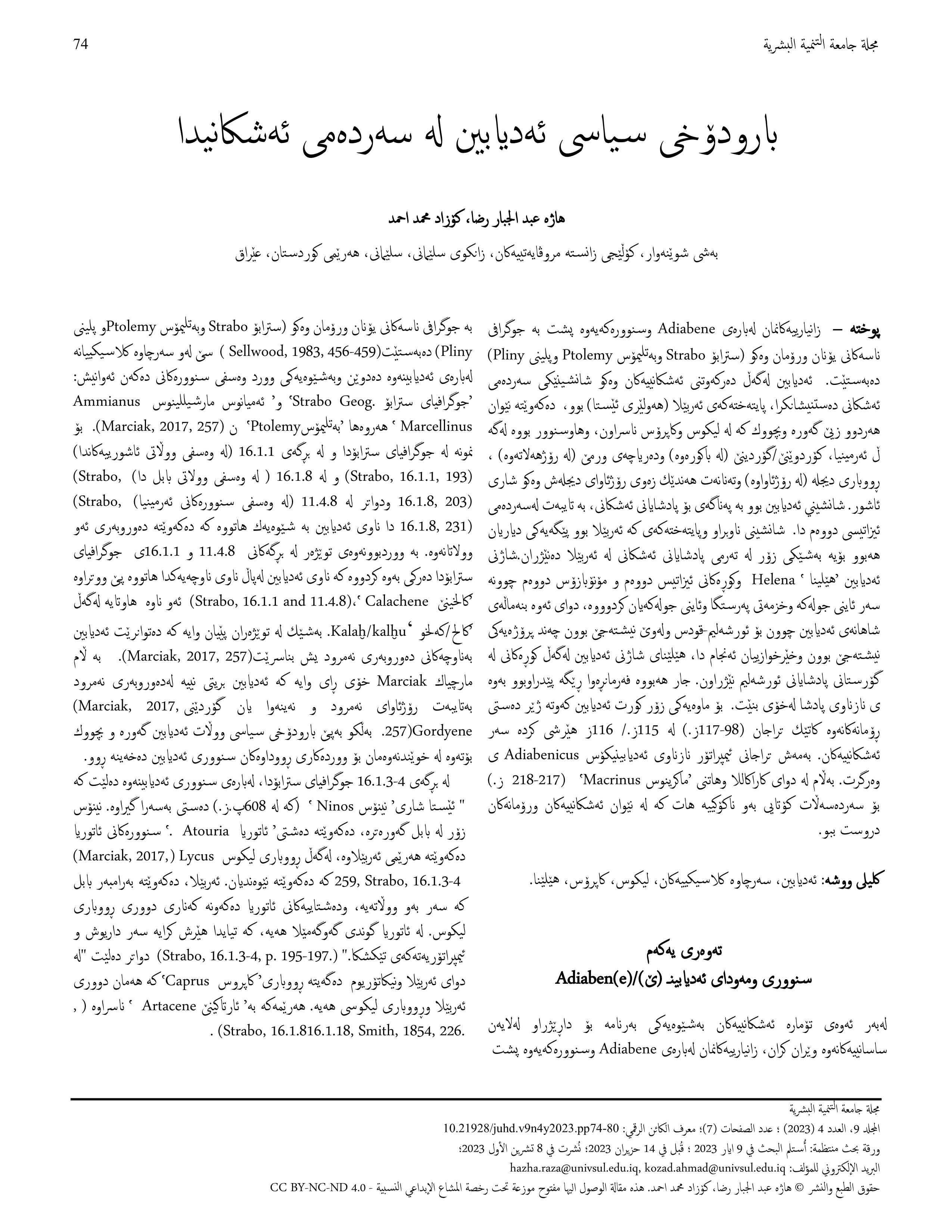 How to Cite
Raza, H. A.-A., & Ahmad, K. M. (2023). The political situations of Adiabene during the Parthian period. Journal of University of Human Development, 9(4), 74–80. https://doi.org/10.21928/juhd.v9n4y2023.pp74-80
License
Copyright (c) 2023 Hazha Abd-Aljabar Raza, Kozad Muhammad Ahmad
This work is licensed under a Creative Commons Attribution-NonCommercial-NoDerivatives 4.0 International License.