Why Do Students Still Plagiarize? Perceptions of EFL and Non-EFL Students on Plagiarism
Keywords:
EFL students, Plagiarism, Perceptions, Cultural Attitudes
Abstract
This paper is an investigation on the perception of Kurdish EFL and non-EFL students on plagiarism, as well as the causes that make students resort to it. A group of students participated in the research paper who were enrolled in different departments at one of the universities in the Kurdistan region of Iraq. The data was collected through a questionnaire followed by interviews to get a better understanding of the phenomenon in question. The findings of the current study show that there is a misconception about the idea of plagiarism and students mostly consider copying and pasting material as plagiarism. This led to the understanding that paraphrasing does not really constitute plagiarism, and that shows that the issue is limited to the stealing of words not ideas in most cases. The results also show that there are a number of other factors that lead students to resort to plagiarism, including lack of time, lack of understanding of the concept, language skills, high school education background, workload and lack of critical thinking skills.
References
Aasheim, C. L., Rutner, P. S., Li, L., & Williams, S. R. (2012). Plagiarism and programming: A survey of student attitudes. Journal of information systems education, 23(3), 297-314.
Amua-Sekyi, E. T. (2015). Undergraduate Students' Perspectives on Plagiarism.
Amin, M. Y. M., & Mohammadkarimi, E. (2019). ELT students' attitudes toward the effectiveness the anti-plagiarism software, Turnitin. Applied Linguistics Research Journal, 3(5), 63-75.
Annan, D. (2019). A Simple Guide to Research Writing.
Anney, V. N., & Mosha, M. A. (2015). Student's Plagiarisms in Higher Learning Institutions in the Era of Improved Internet Access: Case Study of Developing Countries. Journal of Education and Practice, 6(13), 203-216.
Buckley, C., Picking, R., & Grout, V. (2008, November). Internet plagiarism: A survey and case study. In Proceedings of the Fourth Collaborative Research Symposium on Security, E-learning, Internet and Networking, Glyndwr University, Wrexham (p. 56).
Carroll, J. (2004). Institutional issues in deterring, detecting and dealing with student plagiarism. JISC report.
Chan, C. M., Seman, A. S. M., & Shamsuddin, A. (2014, May). Plagiarisim: A review of why malaysian students commit the academic dishonour. In 2014 International Symposium on Technology Management and Emerging Technologies (pp. 119-122). IEEE.
Doró, K. (2014). Why do students plagiarize? EFL undergraduates' views on the reasons behind plagiarism. Romanian Journal of English Studies, 11(1), 255-263.
Eckstein, G. (2013). Perspectives on Plagiarism. Writing on the Edge, 23(2), 99-104.
Introna, L., Hayes, N., Blair, L., & Wood, E. (2003). Cultural attitudes towards plagiarism. Lancaster: University of Lancaster, 1-57.
Kayaoğlu, M. N., Erbay, Ş., Flitner, C., & Saltaş, D. (2015). Examining students' perceptions of plagiarism: A cross-cultural study at tertiary level. Journal of Further and Higher Education, 40(5), 682-705.
Masic, I. (2014). Plagiarism in scientific research and publications and how to prevent it. Materia socio-médica, 26(2), 141.
Ox.ac.uk. 2022. Plagiarism | University of Oxford. [online] Available at: <https://www.ox.ac.uk/students/academic/guidance/skills/plagiarism#:~:text=Plagiarism%20is%20presenting%20someone%20else's,is%20covered%20under%20this%20definition.> [Accessed 26 January 2022].
Roka, Y. B. (2017). Plagiarism: Types, causes and how to avoid this worldwide problem. Nepal Journal of Neuroscience, 14(3), 2-6.
Shahabuddin, S. (2009). Plagiarism in academia. International Journal of Teaching and Learning in Higher Education, 21(3), 353-359.
Wijaya, H., & Gruber, K. E. (2018). Ethics perspective and regulation of plagiarism in Higher Education. International Journal of Humanities and Innovation (IJHI), 1(1), 17-25.
Sherman, J. (1992). Your own thoughts in your own words. ELT Journal, 46(2), 190-198.
Williams, J. B. (2002). The plagiarism problem: are students entirely to blame. In Proceedings 19th ASCILITE confere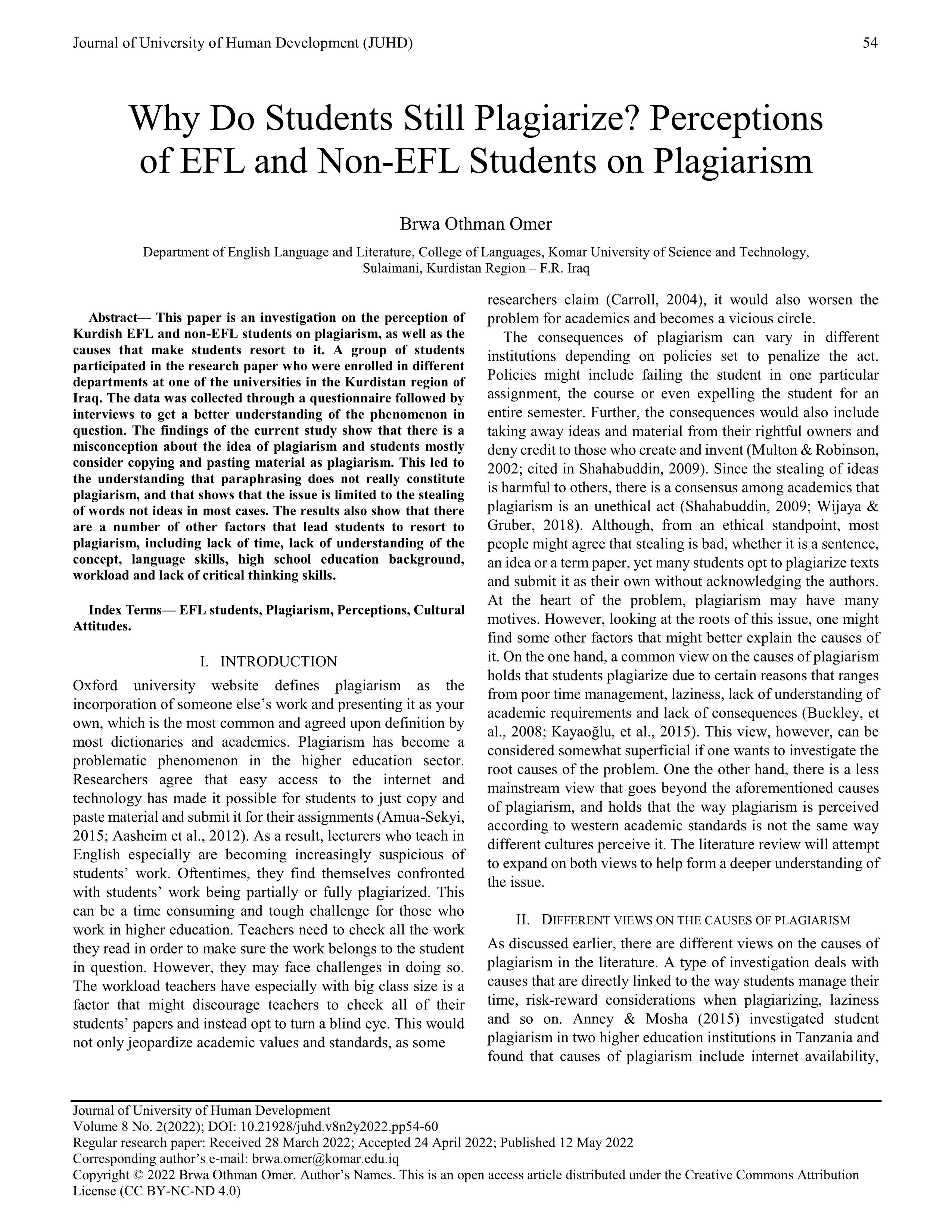 Downloads
How to Cite
Omer, B. O. (2022). Why Do Students Still Plagiarize? Perceptions of EFL and Non-EFL Students on Plagiarism. Journal of University of Human Development, 8(2), 54–60. https://doi.org/10.21928/juhd.v8n2y2022.pp54-60
License
Copyright (c) 2022 Brwa Othman Omer
This work is licensed under a Creative Commons Attribution-NonCommercial-NoDerivatives 4.0 International License.