Political Change in Liberalism: Carl Poper's perspective as an example
Keywords:
Political change, liberalism, modern liberalism, open society
Abstract
Liberalism does not have one perspective on political changes. Classical liberalism places great emphasis on individual freedom and opposes state interference in the private affairs of individuals. From this standpoint, Liberalism accepts revolutionary movements against oppressive regimes that violate individuals' freedom. The idea of freedom is central in neoliberalism, particularly in social welfares, to provide people decent conditions for pursuing a good life or for human flourishing and therefore the neoliberalism perspective opts for a limited interference by the state in the market. The different perspectives of neoliberalism can trace their roots back to classical liberalism's arguments, which encourage individuals' freedom and opt for limit state interference, while in terms of political change, they have conservative views and in this regard, Karl Poper is with the gradual changes of society and rejects the revolutionary mechanism because it threatens freedom and leads to tyranny
References
یەکەم: کتێبە کوردی و بە کوردی کراوەکان
بەرزنجی، ئازاد (٢٠٠٨). مارکۆزو پۆپەر. چاپی دووەم. سلێمانی. دەزگای چاپ و پەخشی سەردە.
بەشیریە، حسێنی (٢٠٠٩). مێژووی بیری سیاسی سەدەی بیستم (بیری (لیبراڵیزم) و کۆنسێرڤاتیزم). وەرگێڕانی/ ناسر ئیبراهیم زادە. هەولێر. دەزگای چاپ و بڵاوکردنەوەی موکریانی.
بەشیریە، حسێنی. دیموکراسی بۆ هەموان. وەرگێڕانی/ حوسێن محمد زادە. هەولێر. دەزگای چاپ و بڵاوکردنەوەی موکریانی.
پولادی، کەمال (٢٠١٩). مێژووی بیروباوەڕی سیاسی لە خۆرئاوا (بەرگی سێیەم). وەرگێڕانی/ یوسف عەلی پور. سلێمانی. خانەی چاپ و پەخشی ڕێنما.
سەلاحی، مەلەک یەحیا (٢٠٠٨). هزرە سیاسیەکانی ڕۆژئاوا لە سەدەی بیستەمدا. وەرگێڕانی/ هیوا مەجید. هەولێر. دەزگای چاپ و بڵاوکردنەوەی موکریانی.
ڤینسینت، ئەندرۆ (٢٠٠٧). ئایدۆلۆژیا مۆدێرنە سیاسیەکان. وەرگێڕانی/ هیوا مەجید. هەولێر. دەزگای چاپ و بڵاوکردنەوەی موکریانی.
کارل پۆپەر، کارل (٢٠٠٦). کۆمەڵگەی کراوەو دوژمنەوەکانی (بەرگی یەکەم). وەرگێڕانی/ ئیدریس شێخ شەرەفی. هەولێر. دەزگای چاپ و بڵاوکردنەوەی موکریانی.
گیدنس، ئەنتۆنی (٢٠١٠). لە نێوان ڕاست و چەپدا. وەرگێڕانی/ خەسرەو میراودەلی. سلێمانی. چاپخانەی ڕەنج.
ئۆدارد، کاترین (٢٠١٨). (لیبراڵیزم) و (نیۆلیبراڵیزم). وەرگێڕانی/ هاوار محەمەد، بابان ئەنوەر، ئارام مەحمود. سلێمانی. دەزگای ئایدیا بۆ فکرو لێکۆڵینەوە.
ئەلێکساندەر دۆگین، ئەلێکساندەر (٢٠١٧). تیۆری چوارەمی سیاسەت. وەرگێڕانی/ وریا غەفوری. سلێمانی. دەزگای ئایدیا بۆ فکرو لێکۆڵینەوە.
دووەم: کتێبە عەرەبی بە عەرەبی کراوەکان
إبراهيم/ موسى (2011). الفكر السياسي الحديث والمعاصر. بيروت. دار المنهل اللبناني.
بوبر، كارل (1959). عقم مذهب التاريخي (دراسة في مناهج العلوم الاجتماعية). ترجمة/ عبدالحميد صبرة. الاسكندرية. دار المعارف.
بوبر، كارل (2001). اسطورة الاطار (في الدفاع عن العلم والعقلانية). ترجمة/ أزد يمني طريق الخولي. الكويت. مطابع السياسية.
توشار، جان (2010). تأريخ الأفكار السياسية (الاشتراكية-الليبرالية-القومية-السلفية). ترجمة/ د. ناجي الدراوشة. دمشق. دار التكوين للتأليف والترجمة والنشر.
توشار، جان (2010). تأريخ الأفكار السياسية (من عصر النهضة إلى عصر الأنوار). ترجمة/ د. ناجي الدراوشة. دمشق. دار التكوين للتأليف والترجمة والنشر.
الجبالي، صقر و اخرون (2014). قاموس المصطلحات المدنية والسياسية. مركز إعلام حقوق الإنسان والديمقراطية.
ستيوارت ميل، جون (1996). أسس الليبرالية السياسية. ترجمة/ إمام عبدالفتاح إمام، ميشيل متياس. القاهرة. مكتبة مدبولي.
كيلاني، أمال (2010). ألف باء الليبرالية. القاهرة. الهيئة المصرية للكتاب.
مارشال، جوردون (2001). موسوعة علم الاجتماع (المجلد الثالث). ترجمة/ أحمد زايد واَخرون. القاهرة. المشروع القومي للترجمة.
منصور، أشرف (2008). الليبرالية الجديدة (جذورها الفكرية وأبعادها الاقتصادية). القاهرة. الهيئة المصرية العامة للكتاب.

سێیەم: کتێبە ئینگلیزیەکان
Cahoone, Lawrence. (2014). The Modern Political Tradition: "Hobbes to Habermas". Virginia. The Great Courses.
Gaus, Gerald (2000). political consepts and political theories. Colorado. westview press oxford.
Sargent, Lyman Tower. (2009). Contemporary Political Ideologies (a comparative analysis). Fourteen Edition. Wasdwath Cengage Learning.
چوارەم: سەرچاوە ئەلکترۆنیەکان
سويل، إيفانز (24 يوليو 2016). النيوليبرالية: الاَيديولوجيا، السياسات، والاَثار الإجتماعية. ترجمة/ خبيب زهير: https://nthar.net/neoliberalism
مارتينز، إليزابيث - أرنولد، غارسيا (20 ابريل 2012). ماهي النيوليبرالية؟ تعريف موجز موجه للنشطاء. ترجمة/ عبدالكريم اوبجا: https://attacmaroc.org/%D9%85%D8%A7-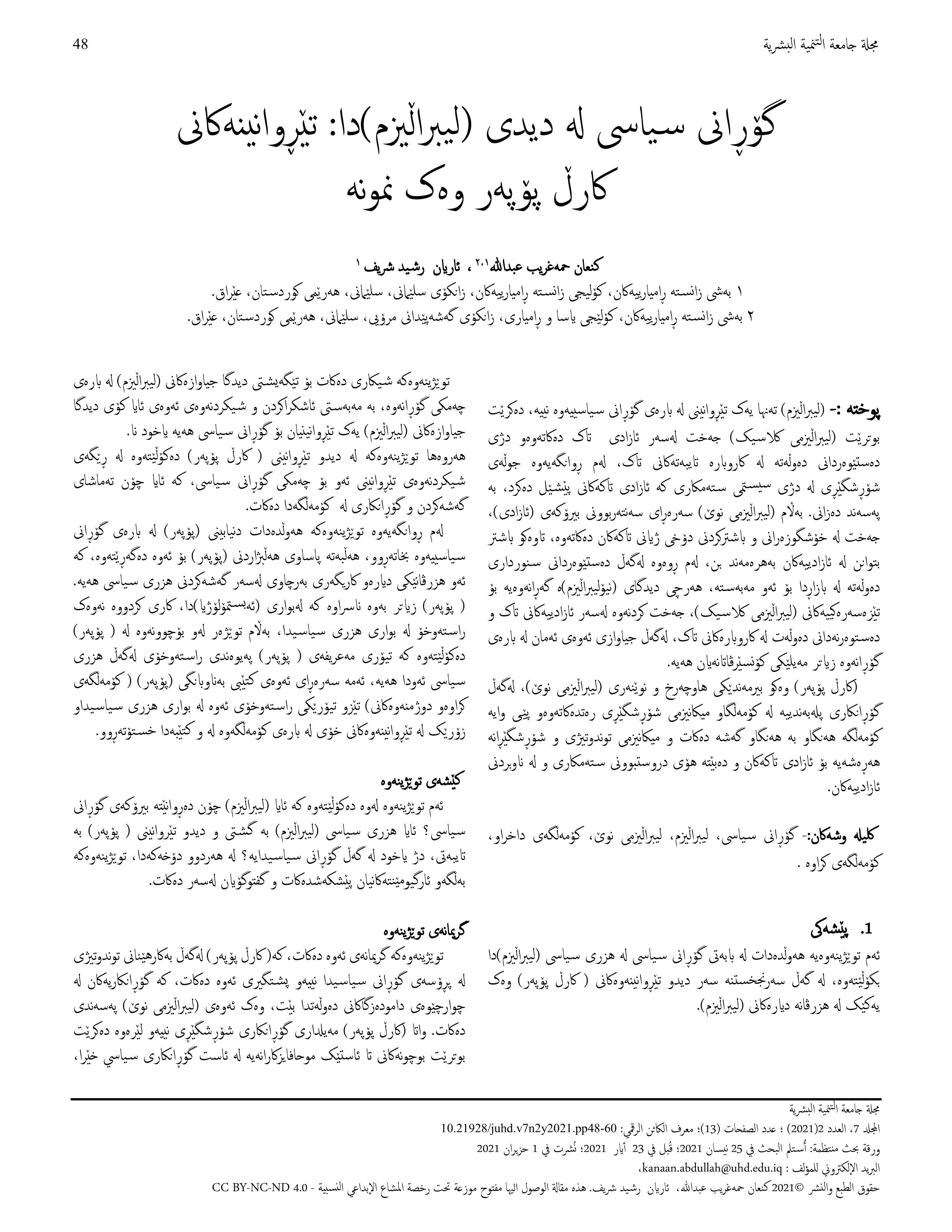 License
Copyright (c) 2021 Kanaan Hamagharib Abdullah, Aryan Rasheed Shareef
This work is licensed under a Creative Commons Attribution-NonCommercial-NoDerivatives 4.0 International License.