Students' Perceptions of Translation: Art, Craft and/or Science?
Keywords:
Translation, students' perception, Art of translation, Craft of translation, Science of translation
Abstract
The theories and application of translation have been investigated primarily from the perspective of researchers, accredited translators, translation teachers, and trainers. This study examines the lenses through which translation students are motivated to embark on the journey of translation. Whereas translation has long been considered to be an art in which translators principally rely on their talent and passion, or a profession in which practitioners are expected to have acquired necessary skills, translation has gained status as an academic discipline on its own in the past few decades. This paper aims to examine how students from different ethnic backgrounds perceive translation to be while studying the subject at university. To do so, a research questionnaire is devised to obtain students' perceptions of translation as to whether they perceive it to be an art, craft, or science. The questionnaire aims at translation students from diverse ethnic backgrounds, specifically: Arabic, Kurdish, and Persian. The results reveal that the student participants perceive translation to be a combination of the three elements of art, craft and science but to slightly varying degrees.
References
Axelina, M. and Setiawan, A. (2021). 'Students' Perception on the Use of Google Translate'. Beginner Education Journal (BEJo), 1(1), pp. 1-14.
Chukovskii, K. (1984). The Art of Translation. London: Oxford University Press.
Gabr, M. (2001). 'Program Evaluation: A Missing Critical Link in Translator Training'. Retrieved April 3, 2007 from http://accurapid.com/journal/15training.htm
Khotimah, K., Wahyudin, W. and Rohbiah, T. S. (2021). 'Students' Perception of Google Translate in Online English Learning'. JELTS, 4 (2), pp. 78-85. http://dx.doi.org/10.48181/jelts.v4i2.12016.
Larasaty, G. and Prawiro, I. Y. (2021). 'Exploring Students' Perception of Translation Activity in the Poetry Classroom'. Journal of English Language and Language Teaching, 5(2), pp. 118-129.
Nebez, J. (1958/2008). Wergerran Hwnere (Translation is an Art). Norway: Kurdistan National Congress.
Newmark, P. (1988). A Textbook of Translation. Hemel Hempstead: Prentice Hall.
Rasul, S. H. (2015). Procedures and Strategies in English-Kurdish Translation of Written Media Discourse, unpublished PhD thesis offered to the University of Leeds.
Rasul, S. H. (2019). Journalistic Translation: Procedures and Strategies in English-Kurdish Translation of Media Texts. Newcastle: Cambridge Scholars Publishing.
Schunk, D. H. and Meece, J. L. (2009). Student Perceptions in the Classroom. Routledge: London.
Shastri, P. D. (2012). Fundamental Aspects of Translation. New Delhi: Raj Press.
Siregar, R. (2018). 'Exploring the Undergraduate Students Perception on Translation - A Preliminary Step to Teach Translation in EFL Classes'. English Language Teaching, 11(9), pp. 90-101.
http://dx.doi.org/10.5539/elt.v11n9p90
Woolsey, W. (1974). 'The Art of Translation'. The South Central Bulletin, 34(4), pp. 166-168.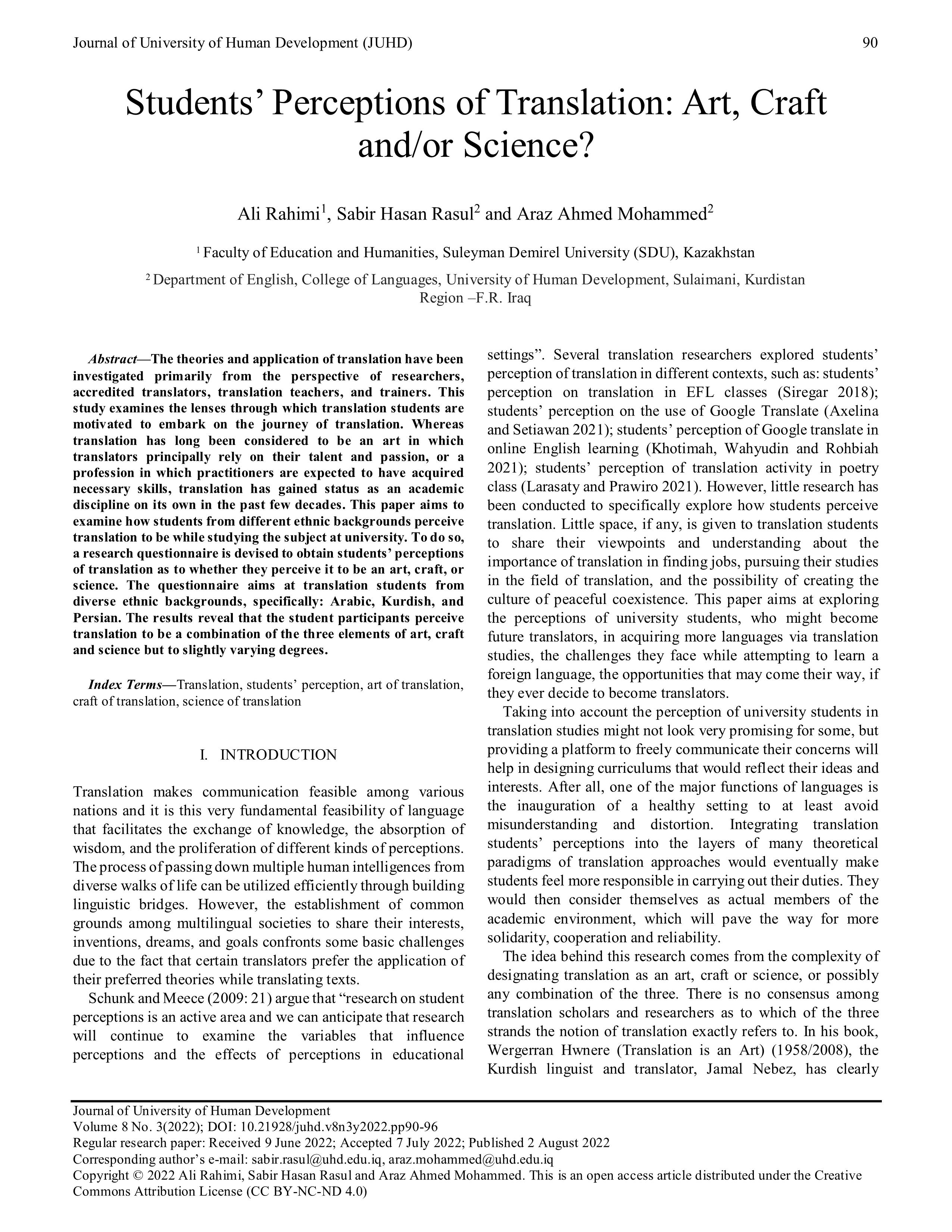 Downloads
License
Copyright (c) 2022 Sabir Hasan Rasul, Ali Rahimi, Araz Ahmed Mohammed Mohammed
This work is licensed under a Creative Commons Attribution-NonCommercial-NoDerivatives 4.0 International License.