Future IoT Software in Healthcare Also Exploring IoT Industry Application
Keywords:
Future IoT Applications, Healthcare Internet of Things, Medical Care, Industrial Applications
Abstract
There has been a great deal of investigation into medical services ability and specialized advancements during the most recent 10 years. To state the obvious, Internet of Things (IoT) has demonstrated insure associating different clinical hardware, sensors, and medical services experts to give top-notch clinical consideration at a distant area. This has upgraded patient security, diminished medical care costs, expanded admittance to medical services benefits, and expanded functional adequacy in the medical care industry. Emerging technologies such as IoT have the potential to transform our lives in many ways. A smart ubiquitous framework can only be built using smart objects in the IoT system, which is its ultimate building pieces. This research surrenders an audit of potential IoT-based innovation applications in medical services conducted to date. This paper records the development of the use of the Healthcare Internet of Things (HIoT) in tending to different medical care worries according to the viewpoints of empowering innovation, medical care administrations, and applications. Besides, potential HIoT framework issues and issues are explored. The current research closes by giving a wellspring of comprehension on the various uses of HIoT with expectations of empowering future scholastics that are quick to chip away at and kick off something new in the field to have a superior handle of the subject. IoT innovation has helped medical care experts in checking and diagnosing an assortment of well-being concerns, estimating an assortment of well-being factors, and giving demonstrative capacities at far-off areas using these standards. The structure and implementation of a specific framework are the subject of this paper. This has moved the medical services industry's concentrate away from clinics and toward patients.
References
B. Pradhan, S. Bhattacharyya and K. Pal. "IoT-based applications in healthcare devices". Journal of Healthcare Engineering, vol. 2021, p. 6632599, 2021.
M. Javaid and I. H. Khan. "Internet of Things (IoT) enabled healthcare helps to take the challenges of COVID-19 Pandemic". Journal of Oral Biology and Craniofacial Research, vol. 11, no. 2, pp. 209-214, 2021.
Proceedings of the 5th EAI International Conference on Smart Objects and Technologies for Social Good. ACM, New York, USA, 2019.
I. de Morais Barroca Filho, G. S. Jr. Aquino and T. B. Vasconcelos. "Extending and instantiating a software reference architecture for IoT-based healthcare applications". In: Computational Science and Its Applications ICCSA 2019. Springer International Publishing, Cham, 2019, pp. 203-218.
S. Ketu and P. K. Mishra. "Internet of healthcare things: A contemporary survey". The Journal of Network and Computer Applications, vol. 192, no. 103179, p. 103179, 2021.
M. M. Alam, H. Malik, M. I. Khan, T. Pardy, A. Kuusik and Y. Le Moullec. "A survey on the roles of communication technologies in IoT-based personalized healthcare applications". IEEE Access, vol. 6, pp. 36611-36631, 2018.
M. A. Akkaş, R. Sokullu and H. E. Çetin. "Healthcare and patient monitoring using IoT". Internet of Things, vol. 11, no. 100173, p. 100173, 2020.
J. Qi, P. Yang, G. Min, O. Amft, F. Dong and L. Xu. "Advanced internet of things for personalised healthcare systems: A survey". Pervasive and Mobile Computing, vol. 41, pp. 132-149, 2017.
Y. A. Qadri, A. Nauman, Y. B. Zikria, A. V. Vasilakos and S. W. Kim. "The future of healthcare internet of things: A survey of emerging technologies". IEEE Communications Surveys and Tutori-als, vol. 22, no. 2, pp. 1121-1167, 2020.
R. C. Dharmik, S. Gotarkar, P. Dinesh and H. S. Burde. "An IoT framework for healthcare moni-toring system". Journal of Physics: Conference Series, vol. 1913, no. 1, p. 012145, 2021.
N. Gavrilović and A. Mishra. "Software architecture of the internet of things (IoT) for smart city, healthcare and agriculture: Analysis and improvement directions". Journal of Ambient Intelligence and Humanized Computing, vol. 12, no. 1, pp. 1315-1336, 2021.
L. Catarinucci, D. de Donno, L. Mainetti, L. Palano, L. Patrono, M. L. Stefanizzi, L. Tarricone. "An IoT-aware architecture for smart healthcare systems". IEEE Internet of Things Journal, vol. 2, no. 6, pp. 515-526, 2015.
G. Marques, R. Pitarma, N. M. Garcia and N. Pombo."Internet of things architectures, technolo-gies, applications, challenges, and future directions for enhanced living environments and healthcare systems: A review". Electronics (Basel), vol. 8, no. 10, p. 1081, 2019.
D. Castro, W. Coral, J. Cabra, J. Colorado, D. Méndez and L. Trujillo. "Survey on IoT solutions applied to Healthcare". Dyna (Medellin), vol. 84, no. 203, pp. 192-200, 2017.
R. De Michele and M. Furini. "IoT Healthcare: Benefits, Issues and Challenges". In: Proceedings of the 5th EAI International Conference on Smart Objects and Technologies for Social Good, 2019.
S. B. Baker, W. Xiang and I. Atkinson. "Internet of things for smart healthcare: Technologies, challenges, and opportunities". IEEE Access, vol. 5, pp. 26521-26544, 2017.
P. P. Ray, D. Dash and D. De. "Edge computing for internet of things: A survey, e-healthcare case study and future direction". The Journal of Network and Computer Applications, vol. 140, pp. 1-22, 2019.
A. Jain, M. Singh and P. Bhambri. "Performance evaluation of IPv4-IPv6 tunneling procedure us-ing IoT". Journal of Physics: Conference Series, vol. 1950, no. 1, p. 012010, 2021.
L. M. Dang, M. J. Piran, D. Han, K. Min and H. Moon. "A survey on Internet of things and cloud computing for healthcare". Electronics (Basel), vol. 8, no. 7, p. 768, 2019.
B. Oryema, H. S. Kim, W. Li and J. T. Park. "Design and Implementation of an Interoperable Messaging System for IoT Healthcare Services". In: 2017 14th IEEE Annual Consumer Communi-cations and Networking Conference (CCNC), 2017.
A. Gatouillat, Y. Badr, B. Massot and E. Sejdic. "Internet of medical things: A review of recent contributions dealing with cyber-physical systems in medicine". IEEE Internet of Things Journal, vol. 5, no. 5, pp. 3810-3822, 2018.
F. Sallabi, F. Naeem, M. Awad and K. Shuaib. "Managing IoT-based smart healthcare systems traffic with software defined networks". In: 2018 International Symposium on Networks, Com-puters and Communications (ISNCC), 2018.
D. D. Ramlowat and B. K. Pattanayak. "Exploring the internet of things (IoT) in education: A re-view". In: Advances in Intelligent Systems and Computing. Springer Singapore, Singapore, 2019, pp. 245-255.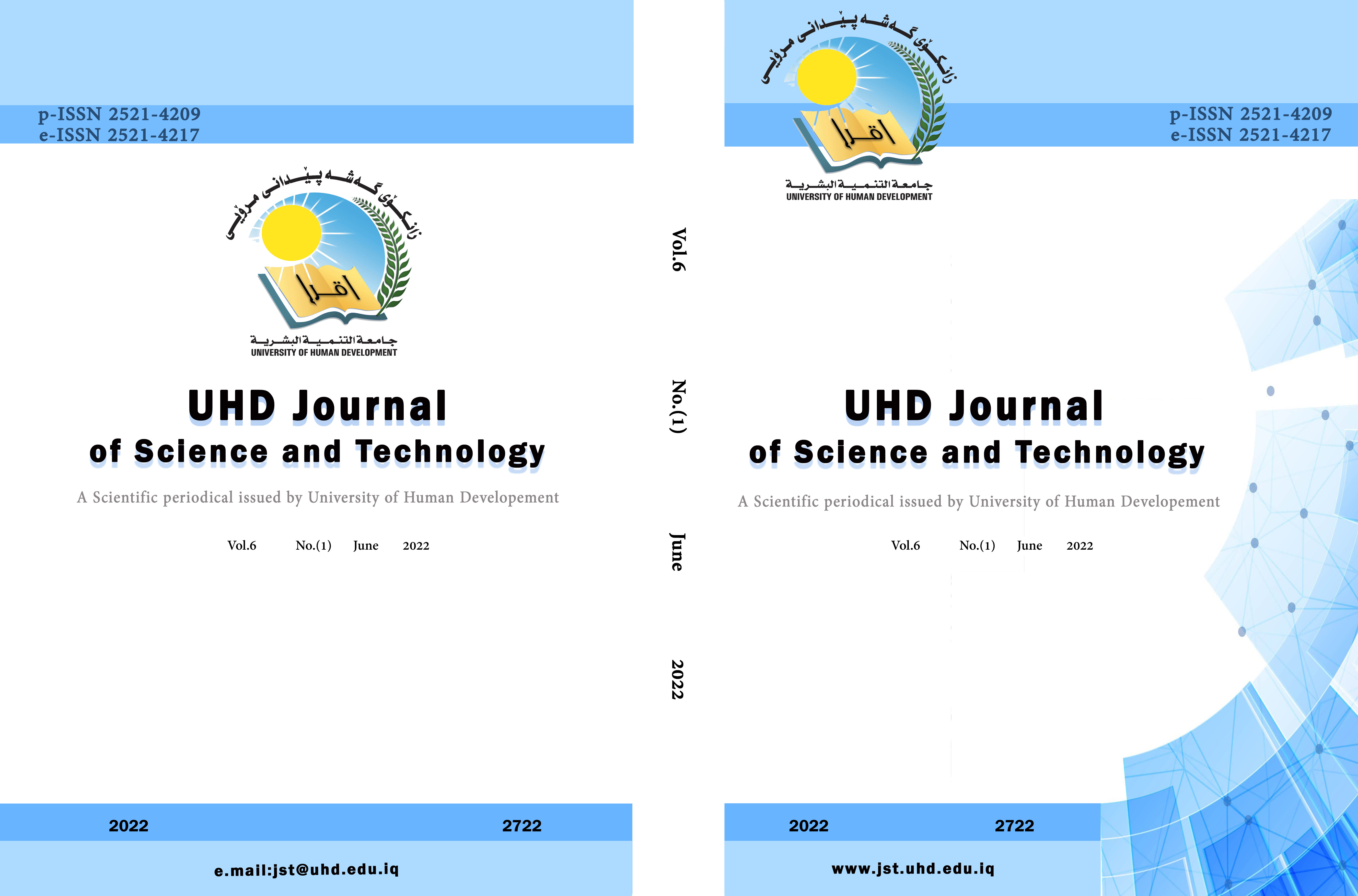 Downloads
License
Copyright (c) 2022 Mustafa N. Rashad, Dana L. Hussein, Haval D. Abdalkarim, Ribwar R. Azeez
This work is licensed under a Creative Commons Attribution-NonCommercial-NoDerivatives 4.0 International License.