Newly Simple Quantitative Determination of Montelukast Sodium by Ultraviolet-Spectrophotometry
Keywords:
Ultraviolet, Montelukast, Determination, Validation, Quantitative, Method
Abstract
Montelukast sodium is well known pharmaceutically for its action as leukotriene antagonist and reliving symptoms associated with asthma is available in the market as tablet, chewable tablet, and powder. The aim of this study was to develop newly simple selective ultraviolet spectrophotometry (UV) method for daily routine analysis of quality control department. The UV method was developed with wavelength at 287.0 nm. This newly developed method was effectively applied to tablet dosage form of the motelukast sodium follow the Beer's Lamberts at range 2.5–50 μg/mL. The validated parameters were carryout such as linearity, accuracy, precision, and specificity. The result of validation statistically studied and found to be satisfactory.
References
N. Kittana, S. Hattab, A. Ziyadeh-Isleem, N. Jaradat and A. N. Zaid. "Montelukast, current indications and prospective future applications". Expert Review of Respiratory Medicine, vol. 10, pp. 943-956, 2016.
S. Sawatdee, T. Nakpheng, B. T. W. Yi, B. T. Y. Shen, S. Nallamolu and T. Srichana. "Formulation development and in-vitro evaluation of montelukast sodium pressurized metered dose inhaler". Journal of Drug Delivery Science and Technology, vol. 56, pp.101534, 2020.
C. Cingi, N. B. Muluk, K. Ipci and E. Şahin. "Antileukotrienes in upper airway inflammatory diseases". Current allergy and asthma reports, vol. 15, pp. 1-11, 2015.
Y. Shakalisava and F. Regan. "Determination of montelukast sodium by capillary electrophoresis". Journal of separation science, vol. 31, pp. 1137-1143, 2008.
I. Alsarra, M. Al-Omar, E. A. Gadkariem and F. Belal. "Voltammetric determination of montelukast sodium in dosage forms and human plasma". Il Farmaco, vol. 60, pp. 563-567, 2005.
H. Ochiai, N. Uchiyama, T. Takano, K. I. Hara and T. Kamei. "Determination of montelukast sodium in human plasma by column-switching high-performance liquid chromatography with fluorescence detection". Journal of Chromatography B: Biomedical Sciences and Applications, vol. 713, pp. 409-414, 1998.
A. K. Shakya, T. A. Arafat, N. M. Hakooz, A. N. Abuawwad, H. Al-Hroub and M. Melhim. "High-performance liquid chromatographic determination of montelukast sodium in human plasma: Application to bioequivalence study". Acta Chromatographica, vol. 26, pp. 457-472, 2014.
S. S. Patil, S. Atul, S. Bavaskar, S. N. Mandrupkar, P. N. Dhabale and B. S. Kuchekar. "Development and statistical validation of spectrophatometry method for estimation of Montelukast in bulk and tablet dosage form". Journal of Pharmacy Research, vol. 2, pp. 714-716, 2009.
M. Arayne, N. Sultana and F. Hussain. "Spectrophotometric method for quantitative determination of montelukast in bulk, pharmaceutical formulations and human serum". Journal of analytical Chemistry, vol. 64, pp. 690-695, 2009.
P. V. Adsule, K. Sisodiya, A. G. Swami, V. P. Choudhari and B. S. Kuchekar. "Development and validation of UV
spectrophotometric methods for estimation of montelukast sodium in bulk and pharmaceutical formulation". Int J Pharm Sci Rev Res, vol. 12, pp. 106-8, 2012.
W. Badulla and G. Arli. "Comparative study for direct evaluation of montelukast sodium in tablet dosage form by multiple analytical methodologies". Rev Roum Chim, vol. 62, pp. 173-179, 2017.
S. Muralidharan, L. J. Qi, L. T. Yi, N. Kaur, S. Parasuraman, J. Kumar and P. V. Raj. "Newly developed and validated method of montelukast sodium estimation in tablet dosage form by ultraviolet spectroscopy and reverse phase-high performance liquid chromatography". PTB Reports, vol 2, pp. 27-30, 2016.
K. Singh, P. Bagga, P. Shakya, A. Kumar, M. Khalid, J. Akhtar and M. Arif. "Validated UV spectroscopic method for estimation of montelukast sodium". IJPSR, vol. 6, pp. 4728-4732, 2015.
S. R. Bhagade. "Spectrophotometric estimation of montelukast from bulk drug and tablet dosage form". International Journal of Pharmaceutical Sciences and Research, Vol. 4, pp. 4432, 2013.
K. Pallavi and S. Babu. "Validated UV spectroscopic method for estimation of montelukast sodium from bulk and tablet formulations". International Journal of Advances in Pharmacy, Biology and Chemistry, vol. 1, pp. 450-453, 2012.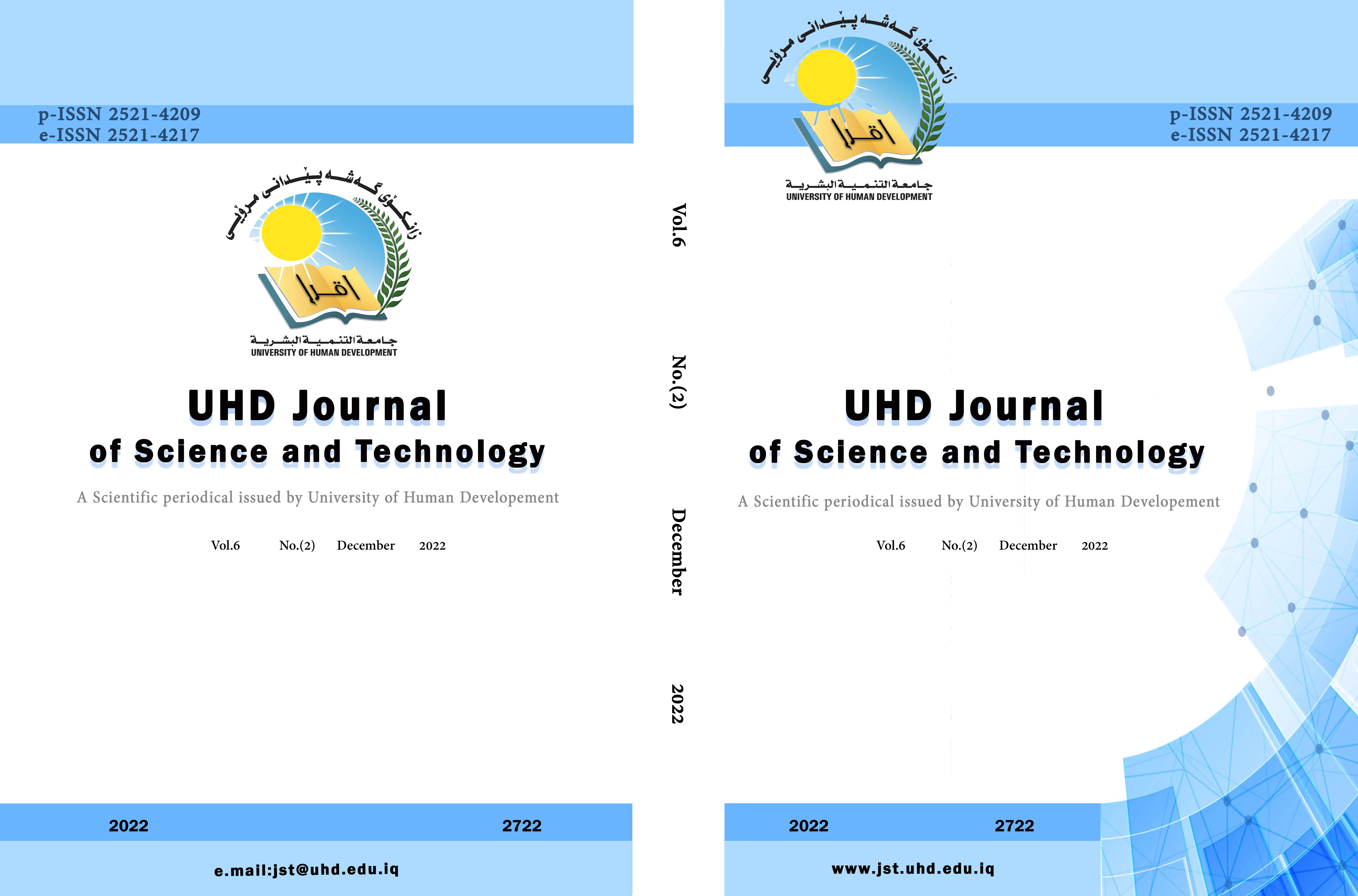 Downloads
License
Copyright (c) 2022 Dlivan Fattah Aziz, Yehia Ismail Khalil
This work is licensed under a Creative Commons Attribution-NonCommercial-NoDerivatives 4.0 International License.