Current Trends in English-Kurdish Movie Subtitling
Harem Abdullah Majeed

College of Languages, University of Sulaimani, Sulaimani, Kurdistan Region, Iraq

Kazi Hassan Saleh

College of Education and Language, Charmo University, Sulaimani, Kurdistan Region, Iraq.
Abstract
This paper explores the current trends in audio-visual translation, in particular, movie subtitling from English into Sorani Kurdish in the Kurdistan Region of Iraq. It is hypothesized that subtitling English movies into Sorani Kurdish is performed using various methods, i.e. there is no one standard method that is adopted. This is based on the second hypothesis that the majority of subtitled movies into Sorani Kurdish are carried out by unprofessional subtitlers. The results of the study show that the majority of the subtitlers replace the English captions of previously subtitled movies by Kurdish translations, using different devices and word processors. Thus, the study exhibits that there is no one standard established method for subtitling English movies into Sorani Kurdish. It further shows that Kurdish subtitlers lack professionalism in terms of English-Kurdish subtitling. 
References
Baker, M., & Saldanha, G. (1988). Routledge Encyclopedia of Translation Studied. Oxford: Routledge.
Dries, J. (1995). European Institute for the Media. Manchester
Gonzalez, L. P. (1998). Audiovisual Translation. In M. Baker, & G. Saldanha (Eds.), Routledge Encyclopedia of Translation Studies (pp. 13-20). New York: Routledge.
Gottlieb, H. (1997). Subtitles, Translation, and Idioms. Copenhagen.: The University of Copenhagen.
Holmes, J. (1968/1988). Translated! Papers on literary translation and translation studies. Amsterdam: Rodopi.
Muhammad, H. (2016). Semantic Loss in Translating Movie Subtitles from English into Kurdish.
Munday, J. (2012). Introducing Translation Studies (3rd ed.). New York: Routledge.
Nord, C. (1988/2005). Text Analysis in Translation: Theory, Methodology, and Didactic Application of a Model for Translation-Oriented Text Analysis (2nd ed.). Netherlands: Printforce.
Pym, A. (2005). New Trends in Translation Studies. In Honour of Kinga. (K. K. Kinga Klaudy, Ed.) Budapest: Akadémiai Kiadó.
Reiss, K. (1971/2000). Translation Criticism-The Potentials and Limitations: Categories and Criteria for Translation Quality Assessment (3rd ed.). Manchester : St. Jerome Pub.
SatExpat. (2019). List of free-to-air satellite Kurdish-language television channels. Retrieved from Television Satellite Channels: http://en.satexpat.com/tv/kurdistan/
Shuttleworth, M., & Cowie, M. (2014). Dictionary of Translation Studies. New York: Routledge.
Snell-Hornby, M. (1988). The Turns of Translation Studies. Amsterdam: J. Benjamins Pub..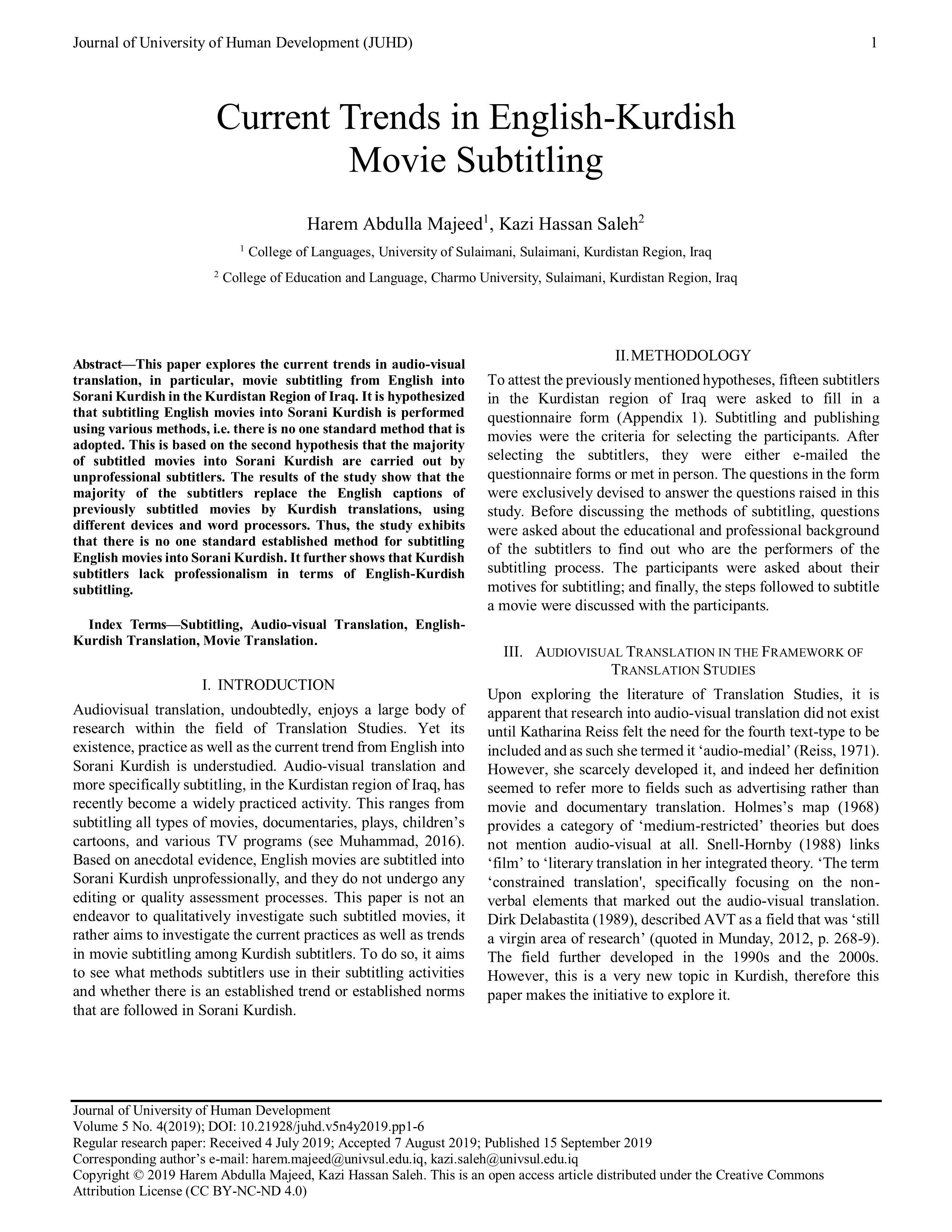 This work is licensed under a Creative Commons Attribution-NonCommercial-NoDerivatives 4.0 International License.