Soft Power In the politics and reform process of China (1978-1992)
Keywords:
China, Softpower , Reform, international Relations
Abstract
China is one of the rare world events that almost every country in the world has unforgettable. This may become the basis for the development of economic, political and ideological methods within a short and precise time frame. China has developed from a primitive agricultural country such as life cycle, medical care, education and local standard management to a country with strong economic, scientific and technological strength. Regional and international norms have transformed China from a ruined and despised country into a valuable international political force. While influencing the international and regional political equations, it also puts the world's powerful countries first. This is the application of soft power in politics and international relations, enabling them to obtain basic materials for establishing and strengthening local politics and conducting social, scientific, military, and technological reforms while voluntarily joining the bondage. And closed the door on a regional and international scale. Establish standards and establish opaque diplomatic relations with different continents. Through these standards, they can ensure the market for their products and provide the necessary energy for the production process they initiate.
References
یەکەم - سەرچاوە عەرەبیەکان:
أوكلاهان ، مارتن غریفیش و تیري، (2008). المفاهیم الاساسیة في العلاقات الدولیة، الامارات، مركز الخلیج للابحاث.
الهدى، سي محاندشهيناز نور، (٢٠١٨-٢٠١٩). الإستراتيجية التجارية الجديدة للصين: دراسة حالة العلاقات الصينية الافريقية بعد الحرب الباردة، ماجستر في العلوم السياسية و العلاقات الدولية، جامعة تيزي وزو.
العلمي، ط.د. فريدة: البراغماتية، (2018). السياسة الصينية في الشرق الأوسط بعد الثورات العربية، مجلة الاستاذ الباحث للدراسات القانونية والسياسية، العدد التاسع ، المجلد الثاني ، جامعة باتنة، مارس.
باكير، علي حسين محمود، (2016). مستقبل الصین فی نظام العالمي (دراسة في الصعود السلمي و القوة الناعمة)، الدكتوراه فی العلوم السیاسة، جامعة بیروت.
حکیمى، توفیق، (٢٠١٣). مستقبل التوازن الدولي في ظل الصعود الصیني، أطروحة مقدمة لنیل شھادة دكتوراه العلوم في العلوم السیاسیة تخصص العلاقات الدولیة، جامعــة باتنــة كلیة الحقــوق والعلــوم السیاسیـة.
صیدم ،محمد محمود صبری، (2014). دور النفط فی السیاسة الصینیة، رسالة الماجستیر، جامعة الازهر، منشورة، غزة.
عبدالسلام، رفیق، (2015). الویلایات المتحدة الامریكیة بین القوة الصلبة و القوة الناعمة، مركز صناعة الفكر للدراسات والابحاث، ط 4، بیروت.
عبدالحكیم، شریف، (2017 -2018). تحدیات السیاسة الخارجیة الصینیة تجاه منطقة القرن الافریقي – بعد الحرب الباردة، رسالة ماجستر، کلية الحقوق والعلوم السياسية قسم العلوم السياسية، منشورة، جامعة محمد بوضیاف المسیلة، الجـــزائر.
عوامر، فاطمة، (٢٠١٧-٢٠١٨). تأثير القوة السيبرانية على الإستراتيجيات الأمنية للدول الكبـرى ـ دراسة حــالة الصين، مـــذكرة تخرج لإستكمال متطلبات نيل شهادة الماجستیر في ميدان الحقوق و العلوم السياسية، جامعة قاصدي مرباح ورقلة، كلية الحقوق و العلوم السياسية، قسم العلوم السياسية.
دووەم - سەرچاوە فارسیەکان:
نریمانی، گلناز و کاظمی مسعود اخوان و صادقی سید شمس الدین، (١٣٩٧) تحلیلی بر راهبردها و ابزارهای تحکیم و گسترش قدرت نرم چین، دانشجوی دکترای علوم سیاسی، گروه علوم سیاسی، دانشگاه تهران، تهران.
سێیەم - سەرچاوە ئینگلیزیەکان:
Arif, Boston Husen, (2017). The Role of Soft Power in China's Foreign Policy in the 21st Century, International Journal of Social Sciences & Educational Studies, University of Sulaimani.
Ding, Sheng, (2014). Chinese Soft Power and Public Diplomacy: An Analysis of China's New Diaspora Engagement Policies in the Xi Era, Bloomsburg University of Pennsylvania, Republic of Korea.
Ding, Sheng, (2006). SOFT POWER AND THE RISE OF CHINA: AN ASSESSMENT OF CHINA'S SOFT POWER IN ITS MODERNIZATION PROCESS, the degree of Doctor of Philosophy Graduate Program in Global Affairs, Rutgers, The State University of New Jersey, New Jersey.
Dumbaugh, Kerry, (2008). China's Foreign Policy: what does it mean for US Global Interests? Congressional Research Service (CRS) code; RL34588.
Glaser Bonnie S. and MurphyMelissa E., (2009). soft power with Chinese characteristics the ongoing debate, Center for Strategic & International Studies, United States.
hackbarth, James R., (2009). soft power and smart power in Africa, strategic insights, center for contemporary conflict at the naval postgraduate school vol8, California.
Jain, B. M., (2017). China's Soft Power Diplomacy in South Asia Myth or Reality? Lexington Books, United States of America.
Kong, Lingmin, (2019). Exploring China's Soft Power: Manifestations of the Chinese Dream in Contemporary Practices of Cultural Diplomacy, PhD, University of York Politics.
Lejli, Hessarbani Anja, (2011). Public Diplomacy of People's Republic of China, Sarajevo.
McGiffert Carola, (2009). Chinese Soft Power and Its Implications for the United States competition and cooperation in the Developing World, center for strategic & international studies, Washington.
NYE, JOSEPH S, (2004). The Benefits of Soft Power, Boston, MA: Harvard Business School.
NYE, JOSEPH S., (2002). The Paradox of American Power: Why the World's Only Super Power Can't Go It Alone, Public Affairs, New York.
NYE, JOSEPH, (2004). Soft Power: The Means to Success in World Politics, PUB LI CAFF AIRS, New York.
NYE, Joseph S, (2011). The Future of Power, Public Affairs, New York.
Roth, Jaime Otero, (2007). China Discovers Public Diplomacy ،real Instituto Elcano.
Tang, James, (2005). WITH THE GRAIN OR AGAINST THE GRAIN? ENERGY SECURITY AND CHINESE FOREIGN POLICY IN THE HU JINTAO ERA, THE BROOKINGS INSTITUTION CENTER FOR NORTHEAST ASIAN POLICY STUDIES, Washington.
Ullah, Chaudhry Saeed, (2015). CHINA'S SOFT POWER: CHANGING THE WORLD PERCEPTION, NAVAL POSTGRADUATE SCHOOL, THESIS, MONTEREY, CALIFORNIA.
Wang, Jian, (2011). Soft Power in China Public Diplomacy through Communication, PALGRAVE MACMILLAN, United States of America.
Xiaoping, Deng: Selected works of Deng Xiaoping, vol. 3.
Yoshihara Toshi and Holmes James R., (2007). China's Energy-Driven Soft Power, Routledge.
Zheng, Denise E, (2009). China's Use of Soft Power in the Developing World: Strategic Intentions and Implications for the United States.
چوارەم - گۆڤارەکان:
بەعەرەبی:
أبو حالوة د. كريم و عمي نورا، (2018). القوة الناعمة الصينية في عصر المعرفة (الموارد والتحديات)، مجلة جامعة تشرين للبحوث والدراسات العلمية، سلسلة العلوم االقتصادية والقانونية المجلد 40، العدد 5.
منصور، عماد، (2016). السياسة الخارجية الصينية من منظار "الثقافة الاستراتيجية، مجلة سیاسات عربیة، العدد 21.
عبدالله، حارث قحطان، (2018). مصالح الصین النفطية في القارة االفريقية، مجلة الدراسات الافریقیة و حوض النیل ، مجلد (1)، عدد(1).
نای، جوزیف، (2002 -2003). حدود القوة الامریكیة، فصلیة العلوم السیاسیـة، ت. علي حسین باكیر، مجلة العصر، المجلد 117، رقم4.
بەفارسی:
الوند مرضیه‌ السادات و عسگرخانی ابومحمد، (١٣٩٣). کارویژههای قدرت نرم در سیاست خارجی چین، پژوهش نامه‌ ایرانی سیاست بین الملل ، سال سوم ، شمارە ١.
بەئینگلیزی:
Weissmann, Michael, (2015) Chinese Foreign Policy in a Global Perspective: A Responsible Reformer "Striving for Achievement, Swedish Defense University, JCIR: VOL. 3, No. 1.
Cho Young Nam, Jeo Jong Ho, (2008). China's Soft Power: Discussions, Resources and Prospects, Asian Survey, Vol 48, No 3.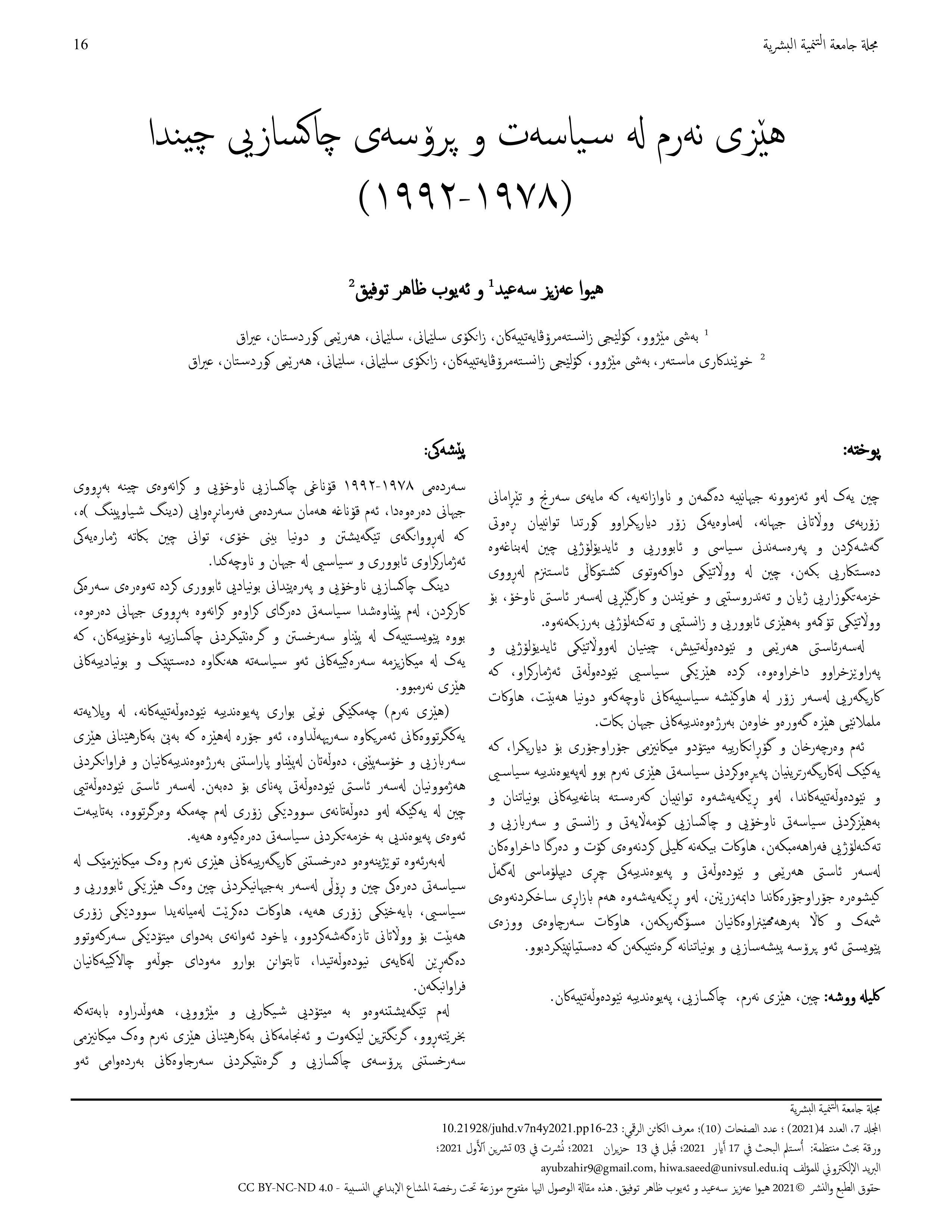 License
Copyright (c) 2021 Hiwa Aziz Saeed, Ayub Zahir Tawfeeq
This work is licensed under a Creative Commons Attribution-NonCommercial-NoDerivatives 4.0 International License.